Spaces Still Available for the RBR Little Bucs Preschool Program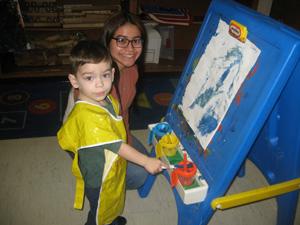 There are still openings available for the Little Bucs Preschool program at Red Bank Regional High School (RBR) located at 101 Ridge Road in Little Silver for the 2015--2016 school year. The preschool accepts three (and very nearly three) and four-year olds from the RBR sending towns of Little Silver, Red Bank, Shrewsbury and neighboring towns. The program operates four mornings a week, Tuesday through Friday from 8:45 to 10:23 a.m. The first day of school is Tuesday, October 6, 2015. The program will run through early June. Operated as a community service and non-profit preschool, tuition is free to attendees with a small fee of $100 charged to defray costs associated with special projects, field trips, holiday events, and a personal yearbook for each child. For inquiries & applications contact preschool director Susan Eads at: seads@rbrhs.org or call 732-842-8000 ext. 331. Anyone interested in applying for a spot should leave their name, phone number, and mailing address.
The Little Bucs Preschool program is an integral part of the RBR Early Childhood course of study which is one of many concentrations of study open to high school students. Little Bucs operates in a fully-equipped Child Development classroom at RBR. The program features a child to high school "teacher" ratio of one-to-one. It offers a developmentally appropriate curriculum for young children, promoting socialization and large and small motor skill development. Activities include: Arts and crafts, music, story-time, free play, gym, show-and tell, snack, and circle time.
Mrs. Eads, an RBR Family and Consumer Science teacher, who has supervised the program for the past 12 years, elaborates, "The program provides a mutual benefit for both ends of the age spectrum. The high school students get an incredible hands-on teaching opportunity while the preschoolers receive a wonderful early-learning and socialization experience. A strong bond develops between the children and the high school students and I am always impressed by the leadership and creativity of my students in their role as teachers. And, of course, it is a joy working with the children!"