Return to Headlines
RBR Student Shares his Passion for Music with Asbury Park Students in Eagle Scout Project
RBR Student Shares his Passion for Music with Asbury Park Students in Eagle Scout Project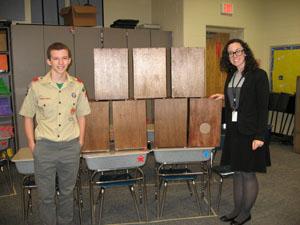 Joseph Ferguson of Little Silver is a senior
in Red Bank Regional's (RBR) Visual & Performing Arts Academy, and member of Little Silver's Boy Scout Troop 126. A piano major, he plays piano in RBR's jazz band and percussion in the concert band. Joe earned membership in the Tri-M Music Honor Society and outside of school has played at restaurants and parties. He also volunteers his music talents at his alma mater, Markham Place Middle School at summer band camp and played in the pit at musicals. So when it came time for this music aficionado to choose an Eagle Scout project in order to achieve the highest level in scouting, Joe looked to music for inspiration.
He explains, "Music became my passion as a result or innumerable opportunities I enjoyed at an early age; as I grow older, I feel obliged to provide similar experiences to younger students in the hope that they, too, may find joy in music."
He embarked on his project a year ago when he first discovered a simple "build your own cajon" kit in an Asbury Park music store. A cajon is a South American percussion instrument which is simple in design.
He explains, "I wanted to build something that would be a good learning tool for a school and that would hold up well with little kids. So I researched it and designed a more professional model to build."
He then contacted percussionist and music teacher Micki Stukane of the Thurgood Marshall Elementary School in Asbury Park to see if her students would benefit from the instruments. She was very enthusiastic about the project.
Joe then sought donations to acquire wood, snares, and other necessary materials to create ten cajons. Technically, a cajon is a six-sided, box-shaped percussion instrument played by slapping the front or rear faces (usually thin plywood) with the hands and fingers. By late fall, he supervised the construction of 16 volunteers including fellow scouts, family and friends over several weekends. By December of 2014 he was able to present the boxes to Ms. Stukane who incorporated them into her music classes.
Joe felt he gained a lot of leadership and management skills in the supervision of a complicated project. He intends to continue his study of music in college upon his high school graduation and aspires to become a professor teaching either music theory or ethnomusicology.