Return to Headlines
RBR Volleyball Player Pays it Forward to Incoming Freshmen
RBR Volleyball Player Pays it Forward to Incoming Freshmen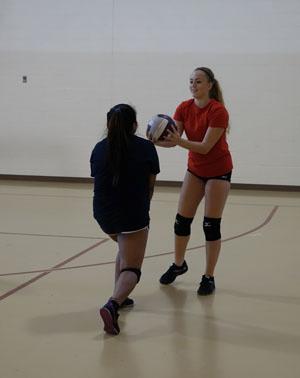 Red Bank Regional (RBR) sophomore Gabriella (Gabby) Lopez of Red Bank always enjoyed working out in the gym doing cardio, weight-training and high-intensity kick-boxing. She also played team sports in middle and high school. Along the way, Gabby realized she also loved helping others learn and enjoy sports. She volunteered to coach softball in her town's recreational league this summer as well the Little Silver recreational summer softball clinic. She also took on a summer job as a camp counselor at the Red Bank Salvation Army guiding younger children through recreational activities. Despite her busy schedule, on Sunday nights throughout July and August, Gabby coached the Red Bank Future Bucs' volunteer volleyball program, which is organized by Red Bank Community youth leaders David Prown and Enrico Ciabattoni. (Future Bucs also runs a basketball summer program for boys in Red Bank.)
David Prown elaborates, "The Red Bank Middle school and Charter School do not offer a volleyball program, so these kids have no idea what the sport is about. Gabby organizes the program in teaching them the fundamentals of the game and its nomenclature. Therefore, they can see if they like it. And if they want to try out for the highs school freshman team, they will be much better prepared."
Gabby was a participant in last year's Future Buc Program, and like the current participants, had never experienced the sport of volleyball. She soon grew to enjoy volleyball as a high-energy game and became motivated to dedicate herself to the sport. Last year, she tried out for the RBR freshmen team. She sprained her ankle after two days in a longer tryout schedule and feared that she would not make the team, but was delighted when she learned otherwise.
She states, "I was so excited to find out that I made the team anyway. I was told it was because of my hard-work and determination. I really enjoyed the season, and hope to make junior varsity this year. I know I never would have even attempted it if not for the Future Buc's program."
When David Prown reached out to her this year for some assistance, Gabby was only too happy to pay it forward. Mr. Prown and Mr. Ciabattoni, who perennially support Red Bank's youth, were also able to acquire essential new knee pads for the players through generous community donations. They as well as the RBR's incoming volleyball coach are on-hand to help out in the volleyball sessions, but Mr. Prown is clear that this is "Gabby's show."
"There are 12 girls in the program. She is successful because she keeps it simple and doesn't overwhelm them," he adds.
One incoming freshman Stacy Osorio, among others, will be following in Gabby's footsteps. She intends to tryout to play a sport in high school which she had absolutely no knowledge of just a few weeks before.
David Prown adds, "Gabby really relates to the kids as not to long ago, she was a student among them. She really engages them as they keep coming back."