Return to Headlines
RBR Welcomes the Class of 2019
RBR Welcomes The Class of 2019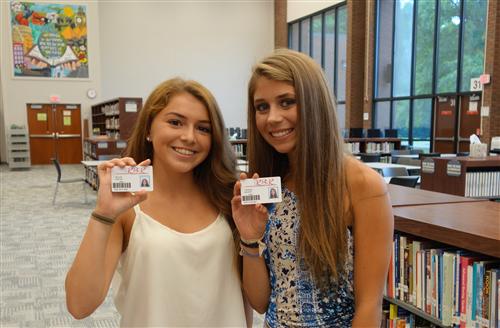 "
This is a great time to be a Buc" nearly 300 new ninth graders were told at the Red Bank Regional (RBR) Freshman Orientation held on Wednesday, August 26. For several hours, the students were shepherded around their new and much larger school by RBR Student to Student Peer leaders as the newbies acquired student Ids, set-up computer student accounts, learned how to open lockers and ran through their daily schedules. They also received the "inside scoop" from the upper classman in peer on peer meetings to answer all freshmen questions.
"It's a big school." one ninth grader anxiously remarked. "Will the teachers be okay if you are late the first day of class?
"They know that this is all still new to you. They will be lenient the first week of class, but better be on time after that," came the sage reply.
The extra care exhibited at the Freshman Orientation actually continues throughout the freshman year in the form of the Freshman Academy, set up nine years ago to demystify the large-school building environment. The students are heterogeneously assigned to three smaller houses, where they share the same teachers and core classes for most of the day. Most importantly, their teachers have common teacher planning times to coordinate cross-curricular learning themes and keep abreast of student progress. Educational Research finds that a positive freshman year bodes well for future high school success.
Freshmen parents later joined them for an information session by the school's administration and staff. Principal Risa Clay encouraged her new students to all get involved. To help the students decide which of the 40 plus clubs appealed to them, most were on-display in the school' s Common's represented by current club and activity members. Principal Clay also encouraged the class of 2019 to follow her Twitter Account --@PrincipalClay-- for the latest updates on school activities and messages. Principal Clay is a prolific tweeter and boasts over 1900 followers and 3300 tweets!
Athletic Director Del Dal Pra (who is also in charge of 40 previously stated clubs as well as 26 varsity sports offered at RBR) echoed Principal Clay's recommendation to join extra-curricular programs stating, "If you are on the bus at 2:30 pm, you are not getting the complete high school experience."
He also informed the parents and their children about the exciting new upgrades to the high school campus including new boys and girls lockers, a new gym floor as well as a 2700 square foot fitness center, explaining, "we see the vision that kids are physically active and in shape, not just our athletes but all our students.". Although the addition should be completed by the first day of school, its furnishings will be supplied by on-going fundraising seeking donations from the community.
Interim Superintendent Tom Pagano addressed the gathering stating, "You are here for a fresh start. Many of you will tap into talents and skills that you don't know that you have. We want you to enjoy high school and embrace everything that it is."
He added a tip for their success stating, "Successful people in life and school do what they have to do before they do what they want to do," and added, "We are thrilled to have you here, it is a wonderful place."
All repaired to the school cafeteria and spilled out to the patio for a Welcome Class of 2019 barbecue.