Return to Headlines
RBR Technology Teacher Named the NJ Air Force Association's Teacher of the Year
RBR Technology Teacher Named the NJ Air Force Association's Teacher of the Year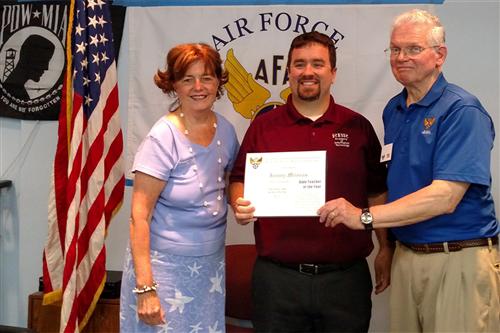 The New Jersey Air Force Association (NJAFA) recently honored Red Bank Regional (RBR) technology teacher, Jeremy Milonas of Holmdel as its Teacher of the Year for his accomplishments in engaging students about science technology, engineering and math (STEM). The award was given at The NJAFA convention held at the New Jersey Aviation Hall of Fame and Museum in Teterboro, New Jersey on August 1. The NJAFA is a member organization of the national Air Force Association,
an independent, nonprofit, civilian education organization promoting public understanding of aerospace power and the pivotal role it plays in our nation's security.
Jeremy Milonas has taught computer science at RBR for the past eight years and designed the high school's computer science curriculum. He currently teaches Intro to Computer Science as well as both honors and AP levels of Computer science and a web and mobile application development class. External of his teaching duties, Mr. Milonas serves as RBR's Computer Science Advisor, National Technical Honor Society Advisor and Cyber Security competition advisor.
Principal Clay comments on her technology teacher, "An imaginative and creative instructor, Mr. Milonas strives to engage and educate students to become involved with computer science. In addition to serving as cyber security advisor and mentor, he dedicated many hours to assisting students in the creation of computer games for both the state and national Technology Student Association conferences. He worked with our students to create computer programs including games, mobile and desktop applications for our Future Business Leaders of America."
It was RBR's consistent and outstanding performances in the AFA-sponsored CyberPatriot competitions that garnered the NJAFA attention. For the past four years, Jeremy Milonas has served as a co-advisor and mentor to RBR's cyber security competition teams along with RBR technology teacher Mandy Galante who devised RBR's highly acclaimed cyber security program. (New Jersey's Lieutenant Governor twice visited RBR to recognize and commend the program.) RBR won the national title the first time they competed in CyberPatriot III and just last year took the state and regional titles and finished fourth nationally in CyberPatriot VII. Additionally, last year, Mrs. Galante and Mr. Milonas reached further into the school community mentoring two Markham Place, Little Silver, middle school teams which took second and third place nationally in the Air Force Association's middle school division, also the first year they competed.
Mandy Galante states of her colleague, "Jeremy is a little bit of a super hero in my book because he shows up just in the nick of time, just when you really need a hand. It's not just CyberPatriot - he mentors students to write programs for FBLA and then takes time out of his summer to chaperone their trips to Nationals Conference. The Computer Club he runs seems to be open all day, every day as the students know they are welcome any time in his room. From expanding the Computer science program to coaching baseball to helping colleagues with their websites - Jeremy is always (!) willing to lend a hand."
Jeremy Milonas comments on RBR's technology success stating, "Our kids are fantastic. They are willing to put in the time and effort that it takes to be successful. There are days after school that kids have to be here including Saturday practices and competition days that go for a long time. It is the enthusiasm they have for the competition and subject matter that drive what we do."
On his career choice to educate young people on Computer Science he states, "Computers aren't going away they are just becoming more prevalent in our lives. In order to be good cyber citizens we have to understand the security behind them as well as how they work."
The NJ Air Force Association educates the public on the role of aerospace power in The United States' defense. For more information visit their website at www.njairforceassociation.org. For more information on the US CyberPatriot competitions in which RBR has excelled visit www.uscyberpatriot.org for additional information.