Return to Headlines
RBR Junior Named Global Leadership Adventure Ambassador
RBR Junior Named Global Leadership Adventure Ambassador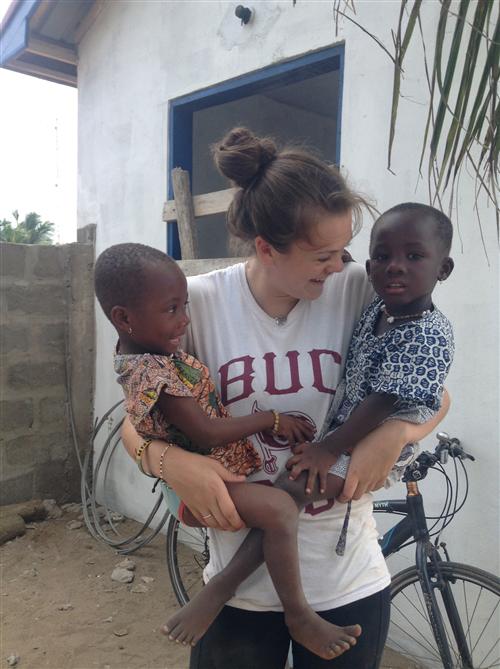 Ever since the third grade, RBR junior Julia Nijnens of Little Silver, wanted to visit Ghana. Her fascination began when she wrote a class essay on the country and revisited the same subject for a fifth grade geography project, this time delving into its sanitation problems. For two and one half weeks this past summer, Julia was able to realize her dream performing a community service project in Ghana with her brother Jouke through the Global Leadership Adventure program. Julia and Jouke are well seasoned travelers as their parents, Dutch Nationals, have taken their children to over 30 countries when visiting relatives in Europe each year. Her work, leadership and motivation recently earned her the esteemed honor of GLA Ambassador. During the upcoming school year, she will perform various duties to promote global leadership and volunteerism for the organization and mentor future volunteers.
During their service project, the Nijnens helped build a compost toilet so an extended family would have sanitary conditions to prevent illness. This is a major program of the GLA which, according to Julia, has built 43 such toilets in the past six years, all with volunteer help.
Julia comments on the importance of this project, "Over 4,000 children die each year in Africa from dysentery due to poor sanitary conditions, something that is totally preventable if they had the proper facilities."
The statistic became personal to Julia and her brother as they met and socialized with young people who lost siblings to dysentery.
In addition to the community service project, the siblings and athletes volunteered at a local hospital, school and enjoyed organizing group sports for the Ghanaian children.
"Just before we left," Julia, an RBR track and field athlete and volleyball player, explains, "we saw all these deflated balls in our garage and just took them with us. We inflated them there and it turned out to be great!"
Her African experience made a great impression on the 16 year-old.
She explains, "It gave me a whole new perspective on life, like just how we take running water for granted. Every day I had to brush my teeth with water in a paper bag. I also began volunteering more in my school and community doing peer tutoring and volunteering at Lunch Break and joined the RBR Key Club."
When she left Ghana, she left her clothes and sneakers behind for the children who didn't have any. She is beginning to think beyond high school and hopes to major in child advocacy and policy with a minor in justice and families. She has already explored several colleges that offer this specific field of study.
In her immediate future, she has already made plans to return to Ghana next summer to help operate a 14-day sports program to help build self esteem among the female teenagers.
She also looks forward to her return for another reason, as she explains, "The Ghanaians are the friendliest people I have ever met. As you walk in the street they will sing to you."
For more information on the GLA visit their website at https://www.experiencegla.com.