Return to Headlines
RBR Presents Parental Program on Teenage Suicide
RBR Presents Parental Program on Teenage Suicide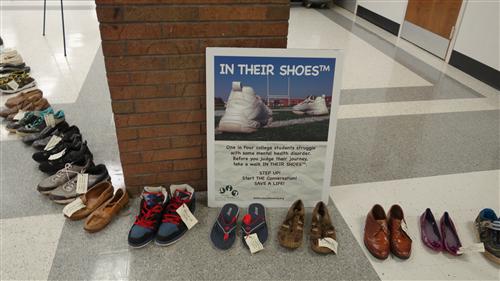 In October, Red Bank Regional (RBR) parents arrived at their monthly Buc Backer Foundation (BBF) meeting to see a queue of shoes lining the walls and snaking around the halls to their meeting room. The shoes were part of a presentation by the founder of AIR™, Attitudes in Reverse, to create a haunting but poignant statement on the topic of suicide.
The exhibit displayed 233 pairs of shoes representing the number of young people in New Jersey who took their lives in just the two years between 2010 and 2012. Suicide has grown to be the second cause of death for young people 15 to 24 in the US. Every 15 minutes someone commits suicide, while every 40 seconds someone attempts it.
According to the AIR™ website, "Unless you have walked IN THEIR SHOES™ you would never know the overwhelming feeling of sadness, anxiety & hopelessness that cause hundreds of young people to end their lives."
The RBR BBF in conjunction with the SOURCE, RBR's School Based Youth Services Program, recently sponsored this very powerful program for parents on the phenomenon of Teenage Suicide.
Although RBR conducts suicide awareness programs for our students, Source Director Suzanne Keller was excited to partner with the BBF to bring in Tricia Baker's AIR™ message directly to our parents to educate them on the signs of suicide and dispel myths.
The AIR™ program is award-winning and specially recognized by New Jersey's First Lady, Mary Pat Christie. The AIR™ volunteers presented a variety of programs to different audiences over the past three years in three states.