Return to Headlines
RBR Freshman Organizes Father and Daughter Mission to the Dominican Republic
RBR Freshman Organizes Father and Daughter Mission to the Dominican Republic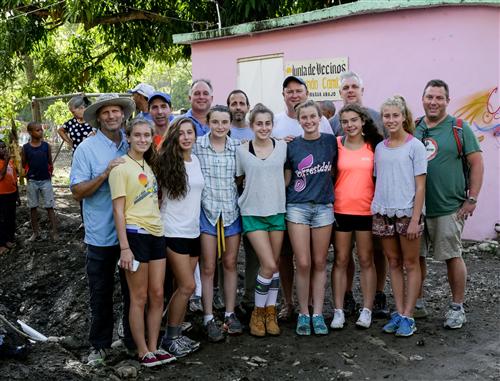 For years, Mara Campolattaro of Rumson had asked her dad, Dr. Brian Campolattaro, to take her on his trips to Central America where he performed mission surgery as a pediatric ophthalmologist with the ILAC (Institute for Latin American Concern) organization. When she turned 14, he acquiesced, inviting her on a humanitarian mission along with six of her friends and their dads from Rumson. The girls named themselves and the mission "HereToHelp". Mara is studying music as a vocal major in Red Bank Regional's (RBR) Visual and Performing Arts Academy. The other six girls, Maddie Orr, Olivia Turi, Paige Borden, Hannah Horan, Caroline Healey and Annabel Morris are also freshman and attend Rumson Fair Haven Regional High School.
ILAC helped the girls to identify a village in need of a vital mission. The seven fathers and daughters were to finance and build an aqueduct to bring clean-flowing water to the Dominican Republic village of La Piragua Abajo, which means The Piranha Below! Prior to this project, the villagers in this small community, composed mostly of one-room, tin roof buildings, would fetch their water from the local river, traveling two miles each way. The Rumson father/daughter project began fundraising months in advance of their visit to purchase pipes, a filtration system, water pumps, a reservoir and the necessary tools to create this small miracle for people they had never met.
"Our goal was to raise $10,000," Mara explains, "However, everyone in our community was so generous that we raised over $12,000! We simultaneously collected more than 600 lbs of clothes which we took with us in plastic bins in place of our checked suitcases, and we each took one carry-on baggage instead for our own personal needs."
The families financed their own airfare and chose to execute their project over five days when the girls had a long November weekend so they only missed one day of school. They were understandably apprehensive upon arrival in a new country, but those fears were soon assuaged as Mara describes their reception, "We were overwhelmed as we arrived in La Piragua Abajo because we exited the bus to the sound of clapping and cheering."
The whole community turned out to greet them and work alongside them, which muted their other fear that they would not be able to complete their ambitious project in the five days they had allotted.
Fathers, daughters and villagers jumped into the task of digging ditches, laying pipe, smoothing the surface and clearing it of rock so that the pumping mechanism could take water from a well to the new water reservoir on a hilltop. The group also installed connecting pipes to each structure. A filtering system was erected and with the aid of gravity, they witnessed the start of the precious convenience of fresh, clean water for the first time to these homes.
"We enjoyed the time working alongside our fathers and we were proud of them for working so hard and for taking us here to learn about how one person can help another," Mara explains.
They also were able to mingle with the people of the village, communicating in bits of English and Spanish.
"We were told by one young man, that they had never seen women doing this type of work, but before long the teenage girls in the village joined us in the physical labor," Mara comments.
The young ladies of "HereToHelp" also had an opportunity to visit the local village school where they played American music, something they were surprised to learn that the locals knew and liked. The school children taught the Americans some of their favorite dances, including the Merengue and the Baccata. It wasn't lost on the girls that their three-mile truck ride to the school was a trek all 75 village children walked twice a day. The girls also noticed that many of the children did not have shoes, and all were wearing some version of American t-shirts. The effect on the girls was overwhelming and is something that will remain with them all of their lives.
Mara states, "Our parents always remind us to be grateful for what we have. You can think and talk about it, but it never seemed to have a lasting impact on me. But seeing how the villagers live, compared to how we live, made a lasting impression. It was truly eye-opening."
The girls, however, are intent on making more memories and performing more small miracles as they are already planning a mission to return to the Dominican Republic next November break.