Return to Headlines
RBR VPA Vocal Majors Shine in Regional Choral and Vocal Music Programs
RBR VPA Vocal Majors Shine in Regional Choral and Vocal Music Programs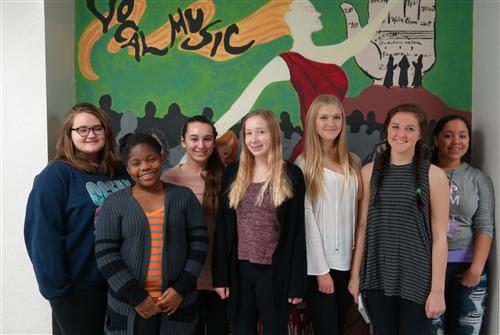 Red Bank Regional (RBR) Visual & Performing Arts (VPA) vocal majors have been named to several honors programs and performed in prestigious regional programs this year. In October RBR hosted the Doris Lenz Festival of Singing which is sponsored by the NJ Chapter of the National Association of Teachers of Singing and included 100 participants from all over NJ competing and participating in solo singing competitions. RBR's Alexa DeAnna, Keansburg, was chosen to participate in a master class with Dr Sean McCarther of Westminster Choir College. Two other RBR students, Jade Glab, Belmar, and Dannielle Wolf, Shrewsbury, placed third and fourth in their respective divisions of Classical Voice. In all, RBR had 22 students compete, more than any other school.
In November Dannielle joined five of her peers to perform in Paramus at the prestigious All-State Opera Festival, they included: Jael Cross, Red Bank, Sydney Gannon, Shrewsbury, Erin Ostrowski, Little Silver, Claire Taylor, Ocean Township, Jenna Smith, Shrewsbury, and Jackie Render of Asbury Park. The New Jersey All State Opera Festival was started nearly seventy years ago, and is the only program of its kind in any of the fifty United States. The students also attended workshops and rehearsals with clinicians from the Metropolitan Opera and New York City Opera.
In February, RBR will send its talented students to perform in other honor programs. Dannielle Wolf and Jade Glab, Belmar will perform in the All State's Mixed Chorus at the New Jersey Teacher's convention in Atlantic City as well as New Jersey PAC, in Newark. Victoria White, Union Beach, and Erin Ostrowski will represent RBR in the All State Treble Chorus in the same program at New Jersey PAC in February. All three All State organizations are sponsored and run by the New Jersey Music Educators' Association, an affiliate of the National Association for Music Education. Finally, the New Jersey All Shore Chorus returns to RBR in February when the high school once again hosts this honors musical ensemble. RBR has fifteen students who made this prestigious group.