Return to Headlines
Christina Emrich – RBR's Educational Services Professional of the Year
Christina Emrich – RBR's Educational Services Professional of the Year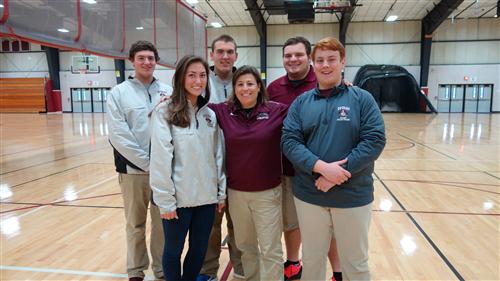 RBR's athletic trainer, Christina Emrich was named RBR's Educational Professional for 2016. Ms. Emrich has been RBR's athletic trainer since she returned to her alma mater in 1995, a prophecy she declared at her 1987 graduation from high school when she told the then athletic director, "I will be back someday ---as your athletic trainer." She obtained her BS degree from Montclair State University in 1992 in Physical Education/Health and Athletic Training, and her MS degree from Kean University in 2007 in Exercise Science
She has more than excelled in that role and has been the inspiration and example to many student athletic trainers over the years. Many have gone on to professions in the medical field including athletic training, physical therapy, nursing, physician assistant, and nutrition among others.
She comments, "The best part of my job has been helping these kids succeed and finding something that they love. Additionally gratifying, is helping a student athlete through a major injury, and helping them get back on the playing field which could help positively influence the outcome."
Christina, who is also the lead teacher for the RBR Academy of Sports Medicine and Management, has continually kept RBR at the state-of-the art in athletic training and treatment through her participation in educational opportunities and experiences. In her spare time, she continues to be active as a dedicated emergency medical technician for both Tinton Falls and Little Silver along with her continued affiliationswith professional organizations. These include, the Athletic Trainers'Society of New Jersey (ATSNJ, Inc.), where she has held several leadership positions and is currently President-Elect, and the National Athletic Trainers Association. The latter honored her with itsSecondary School Athletic Training Committee / Gatorade Award in 2009, which recognizes certified athletic trainers who have provided exceptional service and dedication to their schools. In 2014, the ATSNJ awarded her its Distinguished Service Award.
"What made that award so special" she exclaims is that I was honored along with one of my students."
2014 RBR graduate and student athletic trainer Caitlin Brinkman was given the organization's annual Vito Recine high school scholarship awarded to a student pursuing athletic training in college.
To which Ms. Emrich comments, "You never realize how you will impact someone's life for the future. My mentor John Davis impacted my life in teaching me about athletic training and life in general, and now I was able to pay it forward to my kids."
Ms. Emrich has also distinguished herself as a sole health-care provider for the USA Women's Team Handball team for a Pre-Olympic tour as well as a Medical Manager for the 2014 USA Special Olympics.In 2011, she was formally inducted into RBR's Distinguished Alumni Hall of Fame.
RBR Principal Risa Clay comments, "Ms. Emrich's colleagues were eager to acknowledge her high level of commitment to our students and coaches. Her research in the area of athletic training contributes not only to our competitive edge but also to the academic endeavors of our students in the Sports Medicine Academy. She dedicates countless hours to RBR, keeping our athletes safe and healthy. I am thrilled that she was recognized with this honor."