Return to Headlines
RBR Names New Lacrosse Coaches for Boys' and Girls' Varsity Teams
RBR Names New Lacrosse Coaches for Boys' and Girls' Varsity Teams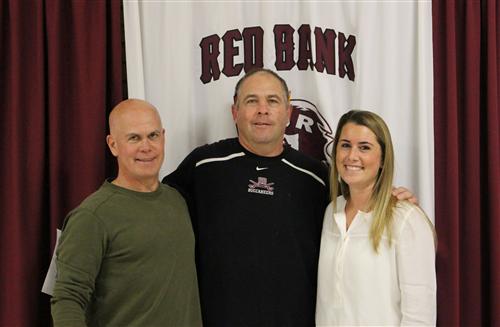 Two new faces will be commanding the sidelines for the Red Bank Regional High School (RBR) lacrosse programs come spring time. Kevin Main and RBR alumna Brook Connell were announced on December 16 as the new head coaches for the 2016 Bucs' boys' and girls' lacrosse teams, respectively.
"I'm excited to have both Kevin and Brook onboard," stated RBR Athletic Director Del Dal Pra. "We think that they can both bring great stability to our boys' and girls' lacrosse programs, not only at the high school level but also at the feeder system."
Both Main and Connell arrive at Red Bank Regional with experienced lacrosse pedigrees.
Main began his lacrosse career as a player at the Delbarton School in Morristown, New Jersey and went on to play club lacrosse at Providence College. He previously served as the head boys' lacrosse coach at West Windsor-Plainsboro North High School in Plainsboro Township, N.J. in 2012 and 2013, and was most recently the coach of the JV team at Northern Highlands High School in Allendale, N.J. Main has also coached in the Hopewell Valley, N.J. youth lacrosse and the N.J. Lacrosse Club programs.
"I really liked the opportunity here, because it's a community where it looks like lacrosse is growing," said Main.
Looking to the year ahead, he said, "The kids are going to give it their all, they're going to be committed to playing the game, and they're going to get a little bit better every day, and the winning and losing is going to take care of itself."
"Kevin Main brings a lot of experience and knowledge, and we're excited about him getting involved in our community and with our recreation and feeder programs," said Dal Pra.
Connell, a Little Silver native, played her four years of high school lacrosse at Red Bank Regional from 2004-07, and then went on to play four years at Drew University in Madison, N.J. She previously coached at both the middle school and the varsity levels at the Ranney School in Tinton Falls (where she was the head coach in 2014) and with the United Lacrosse club program.
Connell is excited to return to her hometown, and added that coaching at her alma mater was something she'd always hoped to do.
"I hope to start with a clean slate, create a winning program and get the girls...to have fun," she said of her goals for the future of the program.
"We're also very excited about Brook in that (experience) aspect, but also that she is a former Buc and a former RBR player," said Dal Pra.
The Bucs boys' lacrosse team finished with a 10-12 record last season, and will return eleven seniors to their roster. The Lady Bucs ended their season at 11-10.