Return to Headlines
Ten RBR Students Honored by Phi Upsilon Chapter of First Black Fraternity for Exceptional Achievement
Ten RBR Students Honored by Phi Upsilon Chapter of First Black Fraternity for Exceptional Achievement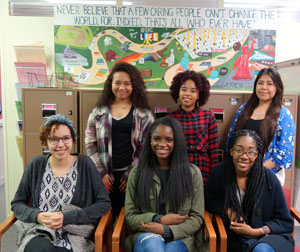 On December 5, ten Red Bank Regional (RBR) seniors were honored by the Phi Upsilon Chapter of the Omega Psi Phi Fraternity's Annual Achievement Week Awards Ceremony held at Neptune Middle School. The RBR students as well as others from Ocean and Monmouth Counties were inducted into the Fraternity's Scroll of Honor.
Robert L. Austin of the Omega Psi Phi fraternity wrote to each high school of their recipient students, "The Fraternity recognizes the accomplishments of students from Monmouth and Ocean counties who have excelled in academics, citizenship, athletics and/or community affairs… our objective is twofold-- to reward students who currently demonstrate the abovementioned qualities and to inspire the remaining students."
Selected for this recognition by RBR were: Rayson Bernard, Red Bank, Derrick Bradley, Bradley Beach, Brenda Cruz, Bradley Beach, Jazmin Graham, Lake Como, Sebrina Lewin, Red Bank, Mya Nunnally, Red Bank, Aliyyah Muhammad, Red Bank, Yaritza Ortega, Red Bank, Samantha Reynolds, Red Bank, Mya Sims, Asbury Park.
RBR Guidance Director Dawn Kaszuba states, "These students achieved a variety of accomplishments throughout their high school tenure. Included in this group are award-winning artists, academic leaders, and committed community servants. RBR could not be more proud of them and appreciative of Phi Upsilon for recognizing their gifts."
Phi Upsilon is one of 750 chapters of the Omega Psi Phi Fraternity located throughout the world. The national organization was the first international fraternity founded on a historical black college.
Its website states, "Since its humble beginnings on the Howard University campus, the Omega Psi Phi fraternity continues to be on the front line, leveraging its power, influence and more than 100 years of commitment to the uplift of our people and our communities."
The Phi upsilon Chapter located in the Jersey Shore carries out this same mission and is very active in its communities. For more information visit its website at: http://www.jerseyshoreques.com/.