Return to Headlines
RBR VPA Singers, Pianists Serenade Shrewsbury Homesteaders
RBR VPA Singers, Pianists Serenade Shrewsbury Homesteaders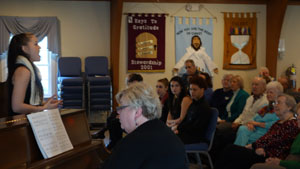 Every month, the Shrewsbury Homesteaders, a senior citizen group, meet at the historic Presbyterian Church to conduct their business. Sometimes they mix a little pleasure with business. Following their report of the state of Shrewsbury by Mayor Don Burden, they were treated to the instrumental talents and beautiful voices of their hometown high school, Red Bank Regional (RBR) and its Visual & Performing Arts Academy (VPA) piano and voice majors.
Classically trained, the students performed a variety of their repertoire for the Homesteaders. Griffin Perry performed "The Tempest" by Beethoven; Peter Lootsma, "Sonata N. 14 in C Minor" by Mozart, while Joseph Ferguson played "Prelude and Fugue N. 17 in Aᵇ Major" by Johannes S. Bach (all three students are from Little Silver.) Opera pieces were performed by hometown Shrewsbury girls Jenna Smith, singing "Quondo Men Vo", a soprano aria from Puccini's opera La bohème and Danielle Wolf who sang Richard Strauss' operatic work "Allerseeian." Popular pieces interspersed the program with Victoria White, Union Beach, singing her rendition of Fiddler on the Roof's classic "Far from the Home I Love." Pianist Jalen Willis, Neptune City, showcased the Jazz genre with "Joes' Fun Mood Blues" by Joe Utterback and Ricci Bigelow stirred the audience's memories with the WW II classic "I'll be Seeing You."
RBR Piano teacher Camille Thompson was grateful for the Homesteader's invitation stating, "Our students were delighted to perform for the Homesteader members. The two generations have a lot to offer one another and we relish the opportunity for our students to perform in their own communities."
(Vocal students study under the direction of RBR, VPA teacher Kris Zook, the Director of Vocal Studies).
Shrewsbury Homesteader President Carolyn Alt who arranged for the RBR VPA visit added, ""The Shrewsbury Senior Homesteaders were thrilled with the vocal and piano performances of the Performing Arts Academy students; it was a distinct treat to start off the New Year with a program by such talented local young citizens."