Return to Headlines
RBR Football Players Sign to Play College Ball on National Signing Day
RBR Football Players Sign to Play College Ball on National Signing Day
By Ella Brockway, RBR Buccaneer Sports Co-Editor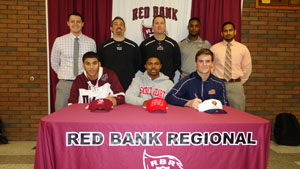 February 3rd was a big day to be a Buc, as three members of Red Bank Regional's football team committed to continue their playing careers on the college level. Sean Naiman, Sadiq Palmer and Teddy Mitchell all signed their National Letters of Intent to play Division I football next fall.
Naiman, a defensive end and tight end for the Bucs, will now take his talents to Lewisburg, Pennsylvania, where he will wear the blue and orange of the Bucknell Bison for the next four years. Naiman spearheaded the RBR defense all throughout the 11-1 season, and earned spots on the Central Jersey Group III All-State First Team, and the All-Shore Conference First Team.
"(Bucknell) offered me great academics," said Naiman, who also had announced offers from Wagner and Marist. "I loved the coaches, and I know my teammates there will be awesome."
Wide receiver and defensive back Teddy Mitchell will join six other Shore Conference football players in Fairfield, Connecticut at Sacred Heart University. Mitchell's speed and awareness on both the offensive and defensive end of the field helped the Buc offense score a total of 298 points this year, while only allowing 177.
"(Sacred Heart) was a school that I really liked, and they showed me a lot of love and attention," said Mitchell. "I just thought it was the best fit for me."
Fellow wide receiver and safety Sadiq Palmer will continue to wear the maroon and white in college, but instead of the Bucs, he will play for the Minutemen of the University of Massachusetts at Amherst. Palmer finished with seven touchdowns and 48 catches for 660 yards on the year in his senior season on the field, He also joined the 1,000 point club on the basketball court for the Bucs earlier this winter.
"I liked the opportunities that I had and the coaches (at UMass), and it's just a beautiful campus," said Palmer. "When I went there, it almost felt like it was home."
When asked about their favorite memory from RBR's record-setting football season this past fall, all three had the same answer: beating Red Bank Catholic for the first time since 2004, and watching the student body rush the field after the win.
On behalf of the entire Buc Deck and the whole Red Bank Regional community, we say thank you to Sean, Teddy and Sadiq for all they've done for our school and our football program, and we can't wait to watch them make us proud on Saturdays next fall.