Return to Headlines
RBR Presents a Moving Tribute for Black History Month
RBR Presents a Moving Tribute for Black History Month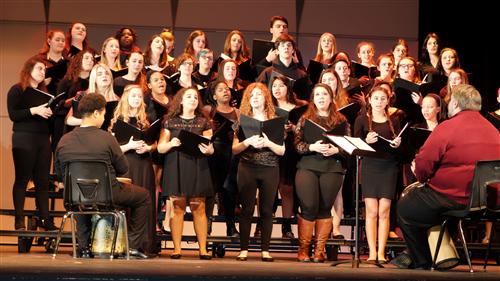 Every year, the Red Bank Regional (RBR) High School celebrates Black History Month with a heartwarming program for its student body. Sponsored by the Multi- cultural club, the history club and Visual & Performing Arts Academy students contributed their talents in highlighting Black Americans timeless contributions to American Society.
RBR Principal Risa Clay greeted her students explaining the reason we celebrate this month stating, "It is imperative that Americans learn the complete history of the United States. All students should study and celebrate the history of all people. It is by knowing and learning about others that we continue to grow and learn from each another and better understand each other."
Senior Jazmin Graham informed the assembly of the sobering fact that racism is still alive and well in America, offering a vivid hometown example which took place on Martin Luther King's birthday.
She explained, "…members of the Klu Klux Klan left fliers all over the Red Bank/Fair Haven area. In these fliers, the KKK expressed a racist-driven hatred for Martin Luther King Jr., and other ideas supporting white supremacy. The KKK also left phone numbers and other contact information, encouraging people to join their racist group.
True, we have come a long way (for example: last year, the confederate flag- a symbol of racism, was finally taken down in South Carolina), but we must realize that racism has not ended."
That togetherness was on display as RBR History Club members detailed geographic areas of the country that represented the history of Black America from monuments, including such iconic sites as The Lincoln Memorial where slavery's end was inscribed in stone, to the Selma bridge and Brown Chapel AME Church, the site of the Civil Rights march. They detailed the cultural neighborhoods of Harlem, NY and Sweet Auburn Avenue where much African American inspired music flourished.
As interludes to the commentary, The RBR Visual and Performing Art string majors serenaded with a medley of African American music from Amazing Grace to Rock n Roll. The RBR VPA orchestra accompanied Jazmin Graham as she sang Nora Jones vampy jazz ballad "Don't Know Why," and the RBR VPA Vocal majors performed the Negro Spiritual "Shine on Me" and an African folk song "Singaba Hambayo Ottawa."
RBR's dance majors performed their choreographic version of Matt Corby's "Brother," which is themed on unification and community. Creative Writers performed their own work in solidarity with their fellow citizens. Gabby Amorelli and Liv Winnicki's "20/20" echoed the refrain, "We are not here to tell you 'not all white people'…We are here to tell you that we see it too."
Mya Nunnally, a multiply award-winning poet joined her creative writing peers in presenting two self-authored poems. They were: "This if For the Black Girls" with Jordan Fleming and the haunting, "Martin Luther, What Age Would You Like to Live In?" with Emily Lugos. These two poems can be viewed on utube at: https://youtu.be/AVc8xeGRtlM.... https://youtu.be/ESQZV18W0J0.
This year's inspirational key note speaker was RBR 1987 alumnus, Joey Fields, a twenty-year veteran of the Red Bank Police department who rose to the rank of Sergeant and has distinguished himself as a Dare Officer and Gang Resistance Education trainer. He also bears an impressive community service resume as coordinator of the Fathers and Sons Flag Football League as well as the Summer League Basketball Program with the Aslan Youth Ministries. He is also a mentor with Lunch Break among other organizations.
An engaging and entertaining speaker he held the students attention with stories of his youth, in particular one in which he related how his aspirations to become a policeman were fiercely derided by the local corner bully. "Well," he explained, "he is still hanging out on that corner, and I have a family, a good job and a pension."
He encouraged the students to always give back to their community as their community really needs them. He left them with the message, "Everyone is going to face adversity in their lives. You can overcome it, but remember; you author your own stories… you write the script of your life."