Return to Headlines
RBR Board of Ed Honors its Commended Scholars
RBR Board of Ed Honors its Commended Scholars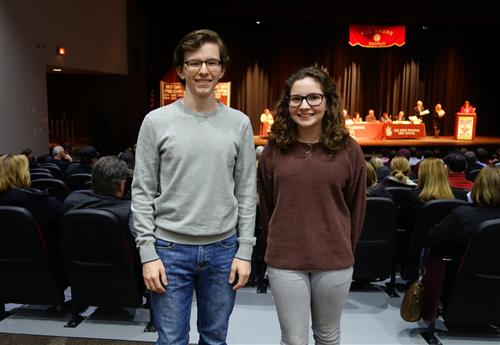 At its February Board meeting, the Red Bank Regional (RBR) Board of Education honored its commended scholars. Joseph Ferguson of Little Silver was honored as a National Merit Commended Scholar. This award is based on the students' performance on the 2014 Preliminary Sat/National Merit Scholarship Qualifying test. The National Merit Scholars represent the top 5% of more than 1.5 million students who entered the 2014-2015 competition. The competition was established in 1955. Additionally, Gabriela Recalde, Millstone, was recognized as a National Hispanic Scholar (NHRP) through the National Hispanic Recognition Program. That entity identifies and celebrates students who score within the top 2.5% among Hispanic and Latino PSAT/NMSQT takers. Out of over 225,000 high school juniors self-identifying as Hispanic/Latino, only 5,000 are selected as NHRP Scholars.
Joseph is an outstanding academic student who has made the school's high honor roll every marking period of his high school career. He is a member of RBR Spanish and Music Honor Societies. A piano major in RBR's Visual & Performing Arts Academy, he is a gifted pianist who also plays with the RBR jazz band. He plans to attend a college with a strong music conservatory with a desire to become a music educator. Joseph has mentored elementary students in music as a volunteer and also earned his Eagle Scout, the highest level of Boy Scouts.
Gabriella is a student in the RBR Academy of Pre-Engineering. As a member of the Technology Student Association, she has represented RBR a regional competitions and serves as secretary of that organization. She is also a member for the National Technical Honor Society as well as the National Honor Society. She will be attending Lehigh University next year to pursue her studies in Chemical Engineering. Gabriela has aspirations to also attend law school upon completing her bachelor's degree.