Return to Headlines
RBR's Patrick Monaghan takes Second Place in State Poetry Out Loud Competition --Second Year in Winning the Poetry Out Loud Regional Competition
RBR's Patrick Monaghan takes Second Place in State Poetry Out Loud Competition
Second Year in Winning the Poetry Out Loud Regional Competition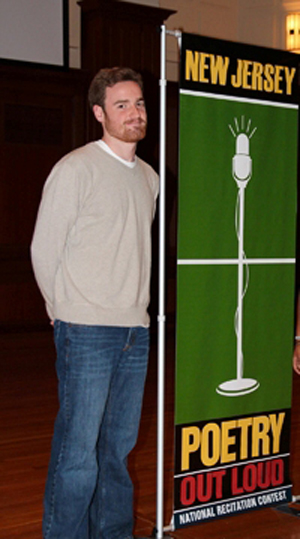 On March 17, Red Bank Regional (RBR) star thespian, senior Patrick Monaghan of Little Silver came in second in the very competitive New Jersey Regional Poetry Out Loud State Championship. This was his second visit to the top Poetry Out Loud stage which took place on Thursday, March 17 at The College of New Jersey. Patrick has won the Regional competition for the past two years. Over 27,000 NJ students participate in this competition nationwide. New Jersey sends the largest number of participants to the competitions next to the state of California. The first place finisher, Celeste Pena of McNair, Academic High in Jersey City, now competes in the national competition in Washington DC.
RBR English Teacher and Poetry Out Loud Coordinator for RBR Andrew Forrest comments on Patrick's performance: "Patrick has a unique talent in that he gets to the heart and soul of each poem. He's not just reciting words, he's conveying a message that the audience receives. During the competition the audience's response to Patrick's performances was powerful. The fact that a student can convey the message of a poem like that is exactly what Poetry Out Loud is about. Poetry is not just for folks sitting in Ivory Towers. It's about the human experience at all levels. Patrick's performances speak to those levels."
Patrick had won the Region 3 Semi-finals held at the Two River Theatre in Red Bank on February 22. Patrick won the same contest last year. Student competitors were represented from numerous towns in Monmouth, Ocean, Middlesex and Mercer Counties. He shared the honor, once again, with Nicole Jenkins, of Piscataway High School
For his performance, Patrick performed Or "By Thomas Sayers Ellis; Sonnet 29: When, in disgrace with fortune and men's eyes by William Shakespeare and Ode to the Midwest by Kevin Young.
He comments on his experience, "It is a challenge and an honor to be allowed to bring a poem's message to an audience of diverse ears at such an intelligent and competitive platform that is Poetry Out Loud. I'm so grateful to everyone who listened to the poems I recited and that I had this opportunity to learn and be the channel for these amazing poems I've had the pleasure of knowing."
In addition to this latest honor, Patrick has amassed many other accolades for his amazing performance talent. Last year, he won the Basie Award for Outstanding Actor in a drama for his portrayal of Benedick in Much Ado About Nothing. He also placed second in the English Speaking Union Shakespeare Competition. He was a metro scholar at the Two River Theatre and recently appeared in the TRT professional production of Lives of Reason. He has had lead roles in both RBR and community theatre productions including Amadeus, Shakespeare's As You Like It, A Midsummer Night's Dream, and Much Ado About Nothing. Patrick intends to major in drama in college next year.
One of Patrick's teachers and fans, Sarah Van Ness, who witnessed his performance at the state competition comments, "We are all very proud of Patrick's performance. He not only scored highly among the judges, but was clearly an audience favorite when reciting his three poems. He has made us all very proud with his spectacular performance as he represented the RBR community!"
For a real treat, watch Patrick's performance at last year's state competition at https://www.youtube.com/watch?v=4K7FSB6Vjkw.