Return to Headlines
RBR Cyberpatriot Regional and State Champions Head to National Competition Three RBR Teams Sweep State Championship 1, 2 and 3rd Place
RBR Cyberpatriot Regional and State Champions Head to National Competition
Three RBR Teams Sweep State Championship 1, 2 and 3rd Place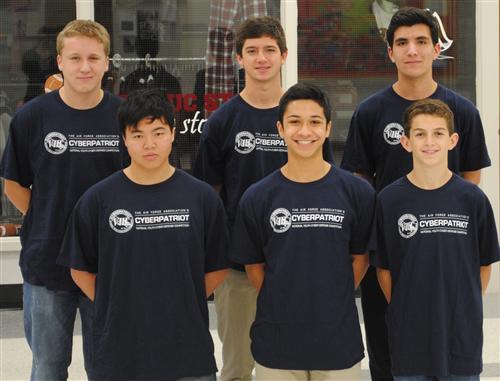 In a few weeks, Red Bank Regional's (RBR) Team Maroon will be hardening defenses and battling stealth cyber attacks to claim the trophy in the Air Force Association's (AFA) prestigious CyperPatriot National Finals competition on April 10-12. The six-man team consisting of Kyle Neary, (captain) junior, Shrewsbury, fellow juniors Bobby Villaluz, Shrewsbury, Young Chen, Belmar, senior Andrew Noglows Little Silver, with sophomores Jack Ferrone, and Andrew Costa, Shrewsbury, will travel with their coaches, RBR Academy of Information Technology (AOIT) teachers Mandy Galante and Jeremy Milonas to Baltimore to compete among the top 12 teams in the country. This is the third visit an RBR team makes to the National Competition in six years. They won the National championship in the first year of the competition's opening to public high schools and last year, they finished in a close race to fourth place.
Two Team Maroon members, Kyle Neary and Bobby Villaluz are especially excited for the Nationals as returning members of last year's team.
Both of them made returning to Nationals this year their top goal. "We wanted it right from the beginning" Bobby explains, adding, "We know how big a deal this is and enjoy it so much; that is why we want to work hard."
Work hard they did, almost from the time last year's nationals ended. As Kyle explains, "We would practice two and three hours a week at home all summer long Skyping one another."
Much of the team's training is based on the RBR Academy of Information Technology cybersecurity curriculum which is unique in the state of New Jersey. It has been acclaimed by the AFA as well as the New Jersey Governor's office. Several times Lieutenant Governor Kim Guadagno has visited RBR to present the AOIT students with many accolades.
Mrs. Galante comments on Team Maroon's march to Nationals this year, "We began in September with four teams among 3,000 from around the country and persevered through three grueling elimination rounds." She adds, "This is like a three season sport which starts in September and goes until the middle of April."
The teams clinched the State Championship in late February with an amazing showing by three RBR teams (Maroon, Gray and White) sweeping the state championship coming in first, second and third.
Those teams then competed in the Northeast Regionals against the top teams from Vermont, Maine, Rhode Island, Massachusetts, New York and Connecticut where Team Maroon won First Place. But more importantly, their score in that round was the 7th highest score of all teams nationwide, placing them in the elite top 12 teams and securing their invitation to the Nationals competition.
Coaches Galante and Milonas have grown the program from its infancy to a point where more students are now participating than ever before. Last year, the coaches made the extraordinary effort of recruiting middle school teams to ensure their pipeline for the future of the program, and particularly to attract girls. According to Mrs. Galante, girls would self-select away from technology after they entered high school. The effort worked, with six girls joining the two Little Silver middle school teams and both teams also secured places in the 2015 Nationals competition. Several of the veterans of that team joined the RBR Academy of Information Technology this year and competed in this year's competitions including some female members. The Little Silver K-12 school district continued to field its own middle school team this year.
The program has also engendered a great deal of school spirit which isn't lost on the team.
Kyle remarks, "I notice that more kids are congratulating us," giving the team even more motivation to give their best to represent Buc Pride.
According to Mandy Galante, RBR has been very supportive of the CyberPatriot teams, particularly when their practice coincided with RBR's most successful football season in decades. The high school allowed Friday competition time so that all CyberPatriot students, including the team's only senior and starting football player, Andrew Noglows, could be present for the championship Saturday games.
Mandy Galante highlights the senior on Team Maroon as an example of the dedication and commitment the CyberPatriots have given to their program. "Andrew had a terrible injury last year, and could not play football. Yet he was at every football game with his arm in a sling to support his team no matter what. That is the kind of kid he is. He then decided to make lemonade out of lemons and sought participation in the Cyberpatriot competitions. I think the karma came back this year as he contributed to both the success of this amazing football team while also getting to Nationals in CyberPatriots."
In addition to the thrill of competition, Team Maroon is very aware of the importance of the skills they are honing. Kyle comments, "This is so relevant to life today. You see so many companies being hacked." Andrew comments, "Everything we are learning is real life skills for what we want to do in our future."
All six members of the team are seeking long-term internships this summer to aid local companies with their computer needs. All plan to make their careers in the computer science, and most likely, the computer security field.
The National Cyber Patriot Competition was created to foster such interest in American youth to study and train in the cyber security field. For more information on the program visit the website at https://www.uscyberpatriot.org/.