Return to Headlines
Channel 11 Comes to RBR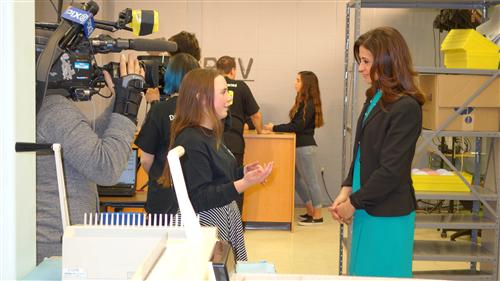 Red Bank Regional's (RBR's) Interactive Media classes had the cameras turned on them when WPIX 11 Morning News visited RBR to film a segment about distracted driving awareness. The network reported on Mr. Carl Grillo's students, who were busy filming this year's #RBRHSDBD Safe Teen Driving Campaign Public Service Announcement (PSA) on distracted driving. WPIX 11 reporter Lisa Mateo not only filmed a network segment about the students' PSA, she also graciously agreed to a cameo appearance in this year's contest submission.
This marks the second year the class has created a safe teenage driving campaign for the Red Bank Regional community and for the contest sponsored by the Brain Injury Alliance of New Jersey (BIANJ) and UGotBrains.com. This year's main focus is on FOMO—Fear of Missing Out. FOMO leads students to access and use social media while driving, or they stay awake late at night on social media and drive tired the next day. FOMO is one cause of distracted driving, a circumstance that related to hundreds of accidents annually; the class felt that FOMO is a topic that needs to be addressed, especially toward teens. Teacher Carl Grillo commented, "The kids were extremely excited to be interviewed by a real news crew on this topic and they were also happy that they were able to ask questions about their craft."
Last year, the advanced levels of the Interactive Media Class won a Grand Prize from BIANJ and UGotBrains.com. They were awarded a driving simulator for their school to use in conjunction with Project Prom week and RBR's Driver's Education program.
The WPIX segment aired ran during the morning news on April 1. April is designated Distracted Driving Awareness Month and students were thrilled to have WPIX help spread the word on the topic. Their final PSA will be completed by the end of this month and as student Haley Watson commented "If it saves at least one life then the work that we put in would have been worth it." Follow their Twitter account https://twitter.com/rbrhsdbd and subscribe to their YouTube Channel https://www.youtube.com/user/RBRTVcgrillo to catch their Final PSA once complete.