Return to Headlines
RBR Free Pre-school to Add Afternoon Program
RBR Free Pre-school to Add Afternoon Program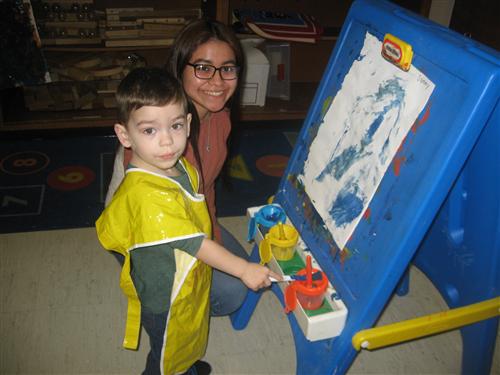 The best pre-school opportunity in the area just doubled its capacity as the Red Bank Regional (RBR) Little Bucs Preschool program will add an afternoon class next fall. The program is operated free of charge to residents in the RBR sending-school towns of Little Silver, Red Bank, Shrewsbury as well as surrounding towns in conjunction with the high school's Early Childhood Development Program. Applications are currently being accepted for the 2016-2017 school year. The tentative starting date is October 5, 2016 and continues through the first week of June, 2017. Anyone interested in applying for a spot should contact preschool director Susan Eads at: seads@rbrhs.org or call 732-842-8000 ext. 331. Please provide your name, your child's name and age, your email, phone number and address.
The ratio of student teachers to pre-schoolers will be one-to-one. There is a small one time activities fee of $125 to fund holiday events, photos, and school outings. The morning session runs from 8:45 am to 10:20 am. The afternoon session runs from 11:50 am to 1:25 pm. The program takes place in a professional early education classroom located within the RBR school building. The classroom is self-contained and has an exit door which opens onto a patio for outdoor activities. Drop off and pick up will take place at the front door of Red Bank Regional.
Ms Eads, an RBR Family and Consumer Science teacher states, "The extreme popularity of the Early Childhood Development Program necessitated the addition of an afternoon section. Many of the high school students in this program intend to make early education instruction their career."
Little Bucs Preschool offers a developmentally appropriate curriculum for young children. Activities include: Arts and Crafts, Music, Story-time, Free-Play, Gym, Show-and-Tell, Snack, and Circle Time.
Mrs. Eads adds, "The program provides a mutual benefit for both ends of the age spectrum. The high school students get an incredible hands-on teaching opportunity while the preschoolers receive a wonderful early-learning and socialization experience. A strong bond develops between the children and the high school students and I am always impressed by the leadership and creativity of my students in their role as teachers. And, of course, it is a joy working with the children!"