Return to Headlines
RBR Athlete Makes New Jersey History Achieving 1000 Saves in both Lacrosse and Ice Hockey
RBR Athlete Makes New Jersey History Achieving 1000 Saves in both Lacrosse and Ice Hockey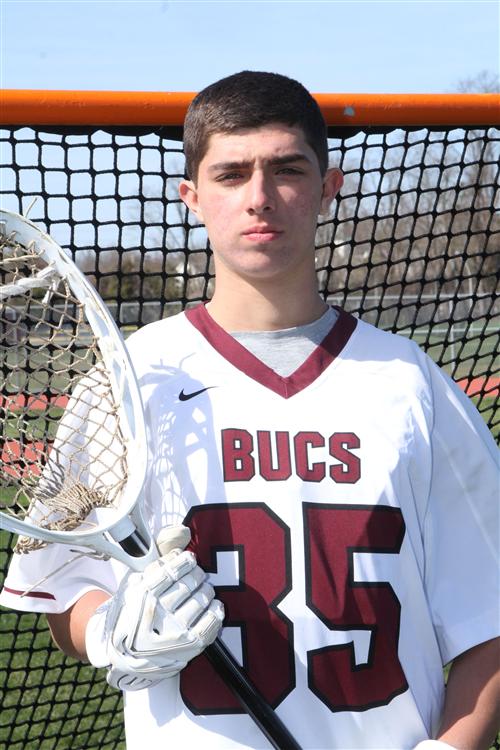 This year, Red Bank Regional (RBR) senior Jonathan Pierce, Shrewsbury, achieved a feat that no other athlete has in New Jersey history. He registered 1000 saves in the two sports of ice hockey and lacrosse. He was subsequently named the New Jersey Sporting News Ice Hockey Player of the Year and the lacrosse saves leader in the Shore Conference. He was also named second team all division B North. A student in RBR's Academy of Finance, Jon will attend Susquehanna University in Selinsgrove, PA, on an academic scholarship where he will also play lacrosse.
Many years ago, a health ailment altered Jon's destiny. A natural athlete, Jon enjoyed playing ice hockey from the age of 8, in the Princeton New Jersey area. He began his play as a forward, but an asthmatic condition forced him to soon change his position to goalie as he explains, "Goalie is perfect fit for me, it involves endurance, but not sprinting and running."
Jon continued to play hockey through his formative years on club teams. He didn't pick up the lacrosse stick until eighth grade. Soon after, he moved to Shrewsbury and a new high school where he believes sports helped him assimilate into his new community, although he did not come to RBR alone. As a triplet, he had the familial company of sisters Victoria and Isabella. He served as the lacrosse captain in his junior and senior year and ice hockey captain in his senior year.
In comparing his two sports he states, "Making the switch from hockey to lacrosse was fine. They may be very different equipment-wise (you are much more protected in ice hockey) but it is the same in that you just have to get your body out in front of it. And playing one sport keeps me in shape for the other."
Jon's RBR lacrosse head coach, Kevin Main, agrees that his ice hockey experience made him a better lacrosse player stating, "Jon uses his whole body and uses his legs more than a typical goalie would."
On Jon's contribution to his team he states, "We had such confidence in his abilities to make those saves that we were able to adjust to a zone defense and invite the other team to shoot from the outside. That took some pressure off our younger defensive players. As a goalie, you verbally direct what is going on in front of you; Jon was very good in helping our younger defenders do a great job in anticipating what was going to happen."
He adds, "And Jon would only offer constructive criticism, and would never get down on his teammates. A true leader leads by example, a good comprehensive player showing them the way lacrosse should be played."
Jon was similarly respected in ice hockey, for what RBR Assistant Ice Hockey Coach Michael DeCotis calls his "quiet leadership;" Asst. Coach DeCotis elaborates "He is the kind of young man that would prefer to have a championship team then any individual honor. On the day he got his 1000 save, I congratulated him, but he wasn't even that happy as he was more concerned about our team loss in that game."
Head Coach Colin Morris adds, "Jon Pierce has been one of the hardest working, most committed and humble athletes that I have ever met. His quiet and calming demeanor will certainly be missed."
Jon, who was active in the high school's environmental club and Future Business Leaders of America, chose his college based on its business school program as well as the great coaches and players he met when he visited the campus. Athleticism runs in his family. His grandfather played football at Old Miss, his parents were high school athletes, and his older brother played football at Union College. Jon's sister Victoria will crew for Holy Cross next year as a freshman. Sister Isabella will be attending Susquehanna with him. Jon believes his entire family has been his greatest mentors and key to his success.
Coach Main adds, "I think he will do a great job in college, his personality—his demeanor and commitment-- will allow him to excel in college lacrosse."