Return to Headlines
RBR's Del Dal Pra Named Jersey Sporting News' Athletic Director of the Year
RBR's Del Dal Pra Named Jersey Sporting News' Athletic Director of the Year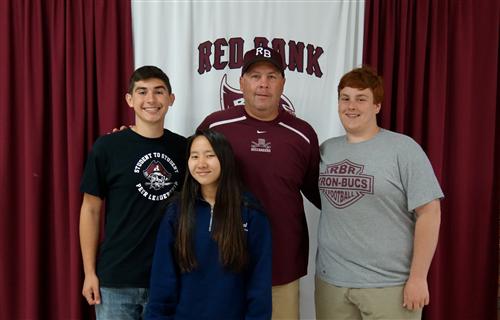 Red Bank Regional (RBR) has experienced a tremendous year in athletic achievement and accolades including several sport championships in football, girls' cross country, girls' swimming and girls' tennis. It is only fitting that the year concludes with the recognition of its Athletic Director, Del Dal Pra, as Jersey Sporting News' pick for Athletic Director of the Year.
Del Dal Pra came to RBR eight years ago. During that time he has been able to establish feeder teams to the high school program with the Little Bucs Program. He succeeded, in partnership with parent groups, to finally put lights on the football stadium. This year, he helped fulfill a long-standing school-wide need and opened a state-of-the art fitness center, something which will benefit the health of RBR students for years to come. He is most known, however, for his dedication and enthusiasm for his job. As testament to this statement--during the month of August, Del drives a shuttle daily from downtown Red Bank to the RBR campus for summer practice sessions for RBR athletes who lack the transportation to otherwise come. He is beloved by his coaching staff, and students with whom he tirelessly works to improve their performance.
His Principal Risa Clay, Athletic Director Christina Emrich, athletic department secretary Denise Jadevaia, as well as his entire coaching staff, jointly nominated him for this award. They wrote of the RBR athletic director, "Del has an open door policy like no other; student athletes and colleagues are welcome throughout the day at all times. He is never too busy to answer a question, take a phone call or offer support… He touches and impacts more lives in the course of a year than most people do in a lifetime. He lights up when he discusses RBR, the home of the BUCs. Del's blood isn't red; it runs maroon."
They describe how Mr. Del Pra has been responsible for generating a contagious school spirit among the student body as exemplified by his impromptu staging of athletic pep parades through the RBR hallways.
Del Dal Pra comments on this award stating, ""Watching our athletes grow from wide-eyed freshman to capable, mature, dedicated and enthusiastic young men and women is astonishing to me. Seeing a coach struggle through a difficult season and return the next year with renewed enthusiasm, drive, determination, and optimism is inspirational to me as a person. When a student athlete and/or coach reaches or surpasses their goals and expectations is thrilling, heartwarming, and a joy to experience. I am humbled by this award and very thankful to hold the position of Athletic Director at Red Bank Regional for the last eight years; it is a fantastic place to call home."