Return to Headlines
RBR TV Students Win Distracted Driving Contest Again and Donate Grand Prize
RBR TV Students Win Distracted Driving Contest Again and Donate Grand Prize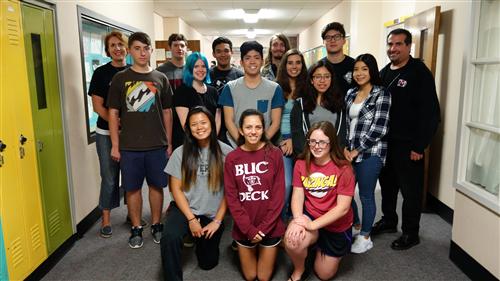 For the second year in a row, Red Bank Regional's (RBR) interactive-media class took the top prize at the U Got Brains Champion Schools Program safe driving competition. RBR shared these honors with Immaculate Heart Academy in Washington and Lenope Regional High School in Standhope. A $17,000 driving simulator was awarded to all three grand prize winners. As RBR had also won the contest the year before (over 55 school districts from around the state competed both years) they decided to donate their prize to the runner-up Summitt High School. The competition was held in Great Adventure on May 26.
RBR interactive-media teacher Carl Grillo comments, "Since we had won a driving simulator last year, we decided to pay it forward and give it to another school to use and benefit from it. For us the competition was really about the journey and not the destination."
The journey included working from September through May every day in class on how to create a very impactful Public Service Announcement (PSA) and publicize it so RBR students would think twice before engaging in distracted driving.
Senior Hayley Watson, Union Beach, took a lead production role in the PSA, utilizing members of her family as actors and her home for nighttime filming. This year's message focused on the concept of FOMO –Fear of Missing Out which causes students to stay up late on social media or even checking their phones while driving so as not to miss that last text message or instagram post. (The PSA can be viewed at https://www.youtube.com/watch?v=gFLzj_2wvT0.)
Hayley comments, "I felt very passionate about it because it could be me or anyone I know that one day gets into an accident."
The incidents of teenage accidents was the genesis for the U Got Brains Champion School Program, as their website states, "Car crashes are the number one cause of death and disability in teens; in New Jersey a teen crashes every 11 minutes and each week another teen dies on New Jersey's road."
In promoting their message, the students continually engaged their community by social media, in the press and even on Channel 11 news, which came to the school to do interview the students for a broadcast they were doing on distracted driving. As a bonus, Channel 11 newscaster Lisa Mateo appeared in the RBR PSA production.
Hayley felt strongly that the whole school was on board with the message.
She explains, "Whenever a teacher had a little extra time in class, he or she would show the PSA. I would also witness members of the community and my own friends changing their behavior once they were in the car driving."
RBR Student Assistance Counselor Lori Todd, who initially brought the competition to the attention of Mr. Grillo's students, comments, "I think the judges were so blown away by the quality of the production and breadth and scope of their message and how they got it out there as well as the students ideas and the way they promoted themselves. They are tweeting it out and sending out messages."
RBR junior Alex Theodoreu of Red Bank worked with her classmates everyday to edit and reedit the footage they produced either at Hayley's home, at the school, or on location at a community church's graveyard.
"Everyone's opinions shaped it (the video) and it really hammered home how important distracted driving is." She added that it was effective at RBR since "it was created by peers that you hang out with. You can definitely relate to someone your own age dealing with the same stresses."
The U Got Brains Champion Schools Program is presented by the Brain Injury Alliance of New Jersey. It is supported by The New Jersey Division of Highway Safety with sponsorship from the New Jersey Manufacturers Insurance Company and the Allstate Foundation. Visit the website at http://www.ugotbrains.com/champion-schools for more information.