Return to Headlines
RBR Students Win Monmouth Day Care Journal Art Competition including Grand Prize Winner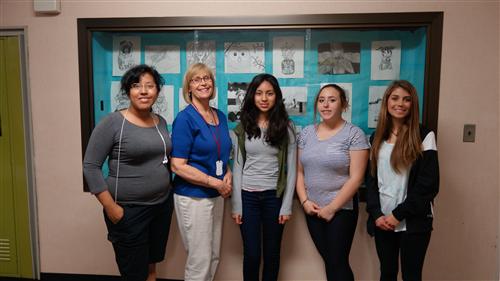 Red Bank Regional High School (RBR) freshman Diana Leon Flores, Red Bank, was the grand prize winner in the Monmouth Day Care (MDC) Journal Art contest in the high school category. Her art submission represents the Goldsmith Foundation ad in the MDC art journal this year, a major fundraiser for the non-profit day-center in Red Bank. In addition to Diana, the other two grand prize winners were fourth grader Denise Cuanteneos Rosas, Red Bank Primary School, (primary school category) and seventh grader Matthew Blankley, Red Bank Charter School, (middle school category). All three grand prize winners were photographed by Danny Sanchez for this year's journal.
Pictured with Diana, center, and her teacher, Barbara Beckett, are three of the other ten RBR Students whose artwork was selected to represent the ad sponsors of the journal. They are (left to right): Amy Ortega Morales, Red Bank, Adriana Donato, Shrewsbury and Theresa Decker, Shrewsbury. Not pictured are the remaining RBR contest winners: Elise Bessetti; Nydasia Birch; Devin Cooper; Samantha La Rocca; Guadalupe Rodriguez; Nasira Jones; and Indi Chism.
Art work was selected to represent each sponsor from the 100s of students and thirteen Monmouth County schools that submitted art to the contest. RBR had the most winning entries than any other school. The student winners and their teachers were recognized at an ice cream social held at the Monmouth Day Care Center on Friday, June 10.
The Monmouth Day Care Center was founded in 1969 under the sponsorship of the Revitalization Corps, National Council of Jewish Women, Greater Red Bank Section, Junior League of Monmouth County, Council of Churches, and Negro Business and Professional Women's Club of Central New Jersey. It is devoted to serving families in Monmouth County seeking quality childcare, without regard to race, religion, ethnicity or economic status. For more information visit their website at: http://www.monmouthdaycarecenter1969.org/.