Return to Headlines
RBR's Football Coach Nick Giglio Named APP Coach of the Year in the Shore Conference
RBR's Football Coach Nick Giglio Named APP Coach of the Year in the Shore Conference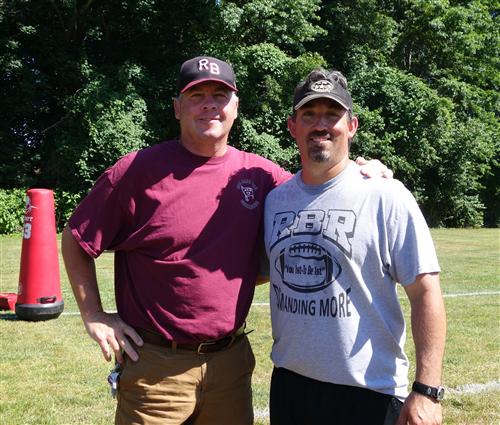 First he was named Football Coach of the Year, then Coach of the Season, and most recently, Red Bank Regional's football head coach Nick Giglio was given the honor of Coach of the Year by the Asbury Park Press. He was formally presented with this award on June 13 by NJ Giant legend Eli Manning at the Jersey Shore Sports Banquet.
"It was a total surprise and a total honor," the humble Giglio explained and added, "But with any individual award, every player knows it is a team award for us-- for RBR. Without Del (RBR's athletic director), our great players, dedicated coaches, our school and our terrific community, that would not have happened."
Del Dal Pra selected Nick Giglio as RBR's head football coach nearly eight years ago. He came to RBR when the football team had recorded only four wins in four seasons. Coach Giglio explains that he embarked on a plan with his assistant coaches to build a program, not for immediate success, but built to last.
Coach Giglio states, "We made so many decisions along the way with the focus of making a successful program from year to year."
Adding night lights to the field several years back (through the fundraising efforts of the RBR Athletic Foundation) definitely helped as it gave the players an additional 45 minutes of practice time four days a week. This was especially crucial this year, as the team practiced well beyond the regular season as they participated in sectional playoffs for the first time in twelve years. Additionally, the Board of Education funded a spectacular new fitness center which opened this year. It is far superior to the cramped weight room athletes had utilized for decades. It provides superior training for athletes to improve their performance in all sports.
Nick Giglio comments, "These kids were a big reason why we have this fitness center now. They showed the Board that they were willing to put forth the effort to do this and that they would benefit from having it."
Coach Giglio also credits the students for meeting his expectations both on and off the field. The students worked hard to improve their academic performance and showed what good citizens they could be performing all types of community service as a team.
The highlight of Coach Giglio's career came when RBR clinched the Conference title following an 11-0 undefeated season. This is a feat that had last been achieved 40 years ago. Needless-to-say, it was terribly disappointing that RBR couldn't go all the way and win the state championship game against Rumson Fair Haven. Most of the disappointment, Coach Giglio explains, came from the entire RBR community (who were all so thoroughly invested in this football team) realizing that this amazing ride had come to an end.
Del Dal Pra observes that the magic of this season, however, will reap many benefits in the future. For example, as Athletic Director, he visits sending school districts, and other K-8 communities that have the choice to attend RBR. He finds The RBR brand has acquired a lot of shine.
He states, "It is a different climate when I arrive at a school now. I not only meet with eighth graders, but some seventh graders are interested in learning about RBR."
And while everyone admits that some very talented players graduated in June, Coach Giglio observes that next season's players, who have experienced or seen what is possible, are already practicing hard to compensate for the talent that has left.
The major beneficiaries of the year, of course, are the students who will now play college ball. Seven RBR 2016 graduates will play collegiate football, several on very generous or full scholarships. That rarely happened seven years ago.
Already some of the players, like Garrett Sickles have come back to watch our kids practice and work out.
"This is the cycle we want to foster," Coach Giglio states. "These kids go through high school and college, have a great career and then come and give back."