Return to Headlines
RBR Alumna Realizes Dream to Play Professional Soccer
RBR Alumna Realizes Dream to Play Professional Soccer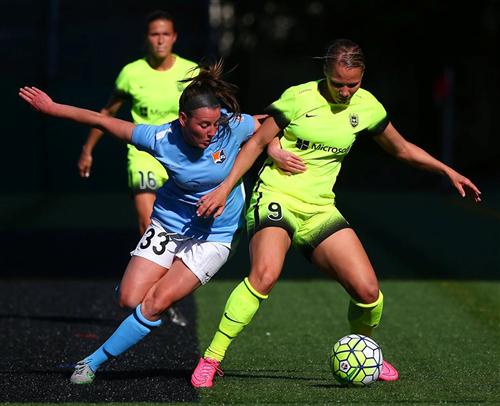 Only 1% of all collegiate soccer players ever have the opportunity to play professional Soccer for a United States team. That is because there are only 200 roster players in the National Women's Soccer League which encompasses only 10 teams in the nation. RBR alumna, Erin Simon of Ocean Township (formally of Little Silver) claimed one of those coveted positions this year on the eve of her graduation from Syracuse University. Even more rewarding is that she now plays for her home state with the New Jersey Sky Blue FC (football club) in Piscataway.
"Honestly it is just a dream," she ebulliently states. "After I got to Syracuse and realized my potential, I really focused on working toward my dream. I told my coaches (at Syracuse) that I wanted to play professionally, and couldn't imagine hanging up my cleats. They told me, I had the raw talent and supported me. My teammates really helped me work even harder."
Erin Simon will never forget her first professional soccer game which happened to be against the Seattle Reign FC, considered one of the best teams in the soccer world with several Olympic team players including America's Olympic heroine, Hope Solo. Erin held her own and played the entire game.
Erin continues to play into her first season which goes to October. She states of this phenomenal opportunity, "The professional experience is so far incredible. I am really enjoying learning from the players and coaches and growing as a player."
Another fact distinguishing this great and almost improbable accomplishment is that Erin didn't even get to play soccer in her senior year of high school, when most colleges pick their players. During her junior year in high school, a major and heartbreaking ACL injury (anterior cruciate ligament) threatened to end her soccer playing career before it barely began. Erin underwent a delicate surgery and six months of grueling physical therapy and rehabilitation to recover her agility. She had the incredible support of family, coaches, physical therapists and trainers, including her mentor RBR athletic trainer Christina Emrich who assured her "We will get you through this." Erin fought her way back.
While she missed her entire senior high school season, her coaches, both club and high school gave testament to what an exceptional player she was despite her recent adversity. Her club coach, Robert Angus spoke to Syracuse Soccer Coach Phil Wheddon, stating, "If you are looking for someone that will change your team, I have the player, but unfortunately she is hurt."
Erin was shocked to receive a scholarship offer to play Division One soccer at Syracuse which took a big chance on her full recovery. Once there, she thrived at Syracuse honing her skills and increasing her confidence. At the end of her senior year, RBR coach, Sean Reid, also helped make introductions to the Sky Blue coach resulting in an invitation to open tryouts.
According to Erin, only 40 young women in the whole college system were drafted this year. Fifty additional were invited to open tryouts and seven were selected. She was one of three that were finally contracted.
While Erin had already begun her professional soccer career in her last semester of college, she was a frequent visitor to her alma mater high school. She trained under Christina Emrich in an internship program to earn experiential credits for her bachelor's degree in Exercise Science. Her future plans include completing a master's degree in athletic training and pursing a second career just like her role model Ms. Emrich.
Right now, however, she is living the dream she never thought was possible.