Return to Headlines
RBR Tech Teacher Recognized by Rochester Institute of Technology
RBR Tech Teacher Recognized by Rochester Institute of Technology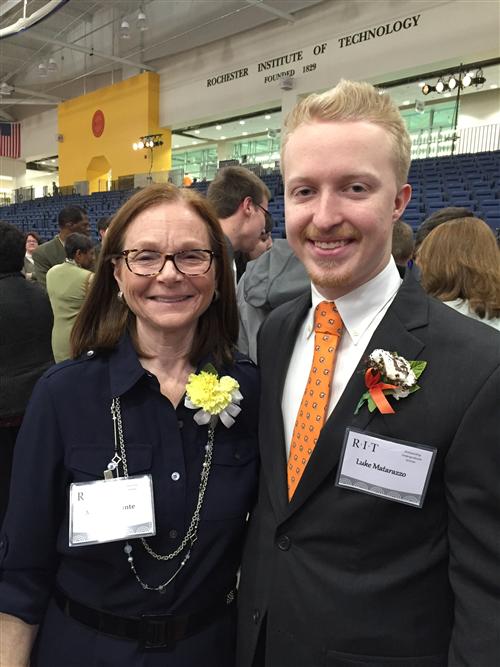 Red Bank Regional's (RBR) outstanding technology teacher Mandy Galante was honored this past spring by Rochester Institute of Technology (RIT) with a certificate of recognition. The honor came from the nomination of her former student, Luke Matarazzo, who was recognized this past year at RIT as an Outstanding Undergraduate Scholar.
RIT Provost and Senior Vice President for Academic Affairs Jeremy Haefner wrote in a letter to RBR's Principal Risa Clay, "We asked our Outstanding Undergraduate Scholars each to identify a high school or community college teacher they considered the "best"—a teacher they would honor as a role model and who had a profound influence on them as they planned for their future."
Luke Matarazzo of Neptune City, was a student in RBR's Cyber Security program and successfully competed in national competitions placing among the top students in the state of New Jersey and the nation.
Mrs. Galante has received many accolades in the past 14 years since she left corporate America to become a technology teacher. She was named Monmouth County Teacher of the Year, and the New Jersey's Teacher of the Year by the Air Force Association. Her CyberPatriot teams have won state, regional and national titles every year since 2011. The Lieutenant Governor of New Jersey, Kim Gaudagno twice visited RBR to commend her students. Eye Witness News and NJ Channel 1 have come to interview her students and report on the curricula she designed. She, however, holds in the highest esteem the recognition and appreciation she receives from her students such as this award and an honor she received in 2012 from Yale University when her former student nominated her for Yale's Educator Award.
She states, "I am so proud of Luke, he is a true representative of our students who have gone on to thrive in college and make the most of their gift for technology. As a teacher it is a gift to work with students who are excited to learn, compete and then explore opportunities in this vital field of cyber security. It has been my good fortune to teach such wonderful young people."