Return to Headlines
RBR Summer Camp Students Staged The Lion King, Jr., an RBR Visual & Performing Arts Academy Production
RBR Summer Camp Students Staged The Lion King, Jr., an RBR Visual & Performing Arts Academy Production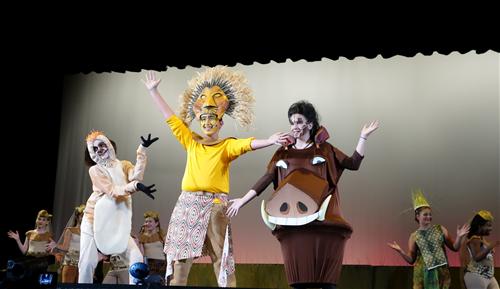 On August 10, over 40 students collaborated to stage a spirited, fun and immensely entertaining version of Disney's legendary Lion King, in the Red Bank Regional (RBR) Visual & Performing Arts' Summer Academy production The Lion King, Jr. The musical, a 60 minute abbreviated version of Disney's Lion King Broadway production, was specifically scaled for the middle school age performers. RBR's staging and costume professionals magically transformed the RBR theatre into the African Pridelands.
The show featured Tim Rice and Elton John's prolific songs including "Circle of Life", "Hakuna Matata", "Can You Feel the Love Tonight", among others, performed by the beloved Lion King characters. These include the wise mandrill Rafiki (Jamie Lynne Eckhoff); the brave and commanding King Mufasa (Lev Brewer), innocent Young Simba (Annabelle Adams); young Nala (Julia Homza); the villainous Scar (Annablle Adams). The older Simba and Nala were portrayed by Sophie Wright and Matthew Maxcy. The comedy team of Timon the meerkat and Pumbaa the warthog, played by Ava DiLouie and Maggi Hough, delighted their audience. The ensemble cast comprised the jungle animals, Wildebeasts, and voices of the Pridelands and the desert night.
Visual & Performing Arts Summer Academy Director Kris Zook told the audience, "This is truly a 2 and ½ week production put on by students from 20 different school districts who attended the camp." He added, "In addition to the talent of these young performers, this program is made possible due the work of the tremendously talented and dedicated RBR staff and high school students who volunteer their time as interns to help the next generation of (VPA) students."
The RBR VPA teachers and student interns, all RBR VPA majors or graduates, guided the campers through a two week rotation of all visual and performing arts including dance, drama, crafts, creative writing, piano, percussion, photography, visual art and vocal music. During the final three weeks of the program campers chose to concentrate on either the musical theatre tract (including acting, dancing and singing) or the visual arts tract, which includes fine arts and handcrafts. A exhibit of the studio art works was on display outside the theatre. For more information on the RBR VPA program, visit the RBR website at www.rbrhs.org.