Return to Headlines
New Jersey Monthly lists RBR among Top 100 High Schools in New Jersey
New Jersey Monthly lists RBR among Top 100 High Schools in New Jersey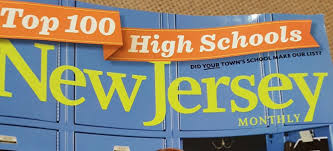 For past decade, Red Bank Regional High School (RBR) has made the prestigious New Jersey Monthly list of Top 100 High Schools in New Jersey. It shares the spotlight this year with eight other Monmouth County High Schools, Holmdel, Rumson Fair Haven, Marlboro, Shore Regional, Middletown High School South, Colts Neck, Wall and Manalapan. The list was made public on September 1 at www.njmonthly.com. New Jersey Monthly utilized information reported by each high school to the State Department of Education for the 2014-2015 school year.
As in the past, New Jersey Monthly employees a three-point weighted criteria based on measures of School Environment, Student Performance and Student Outcomes. The 2016 list included two major departures from the past. First, no test scoring was used. This was based on interviews conducted with numerous Superintendents throughout New Jersey resulting in a consensus that the new PAARC scores were unreliable measures in their first year of administration. Secondly, this year, consideration was given to the number of students taking visual and performing art classes.
Measures utilized under School Environment include: student/faculty ratio; number of AP and or International Baccalaureate (IB) classes; number of students taking AP/IB test in any subject; number of students taking at least one course in visual and performing arts.
Student Performance statistics include the number of students scoring 1500 or better on the SAT and higher than a 3 or 4, respectively, on AP and IB tests. Student Outcomes include the four-year adjusted cohort graduation rate (taking into account graduation rates from original 9th grade enrollment) and the percentage of students enrolled in a two or four year college after 16 months of high school graduation.
RBR Principal Clay states, "We are thrilled to have once again earned a spot on this prestigious list of high performing schools. We have a talented and dedicated staff that supports our students in their quest for advancement. Our exemplary Visual & Performing Arts Program delivers one of the most outstanding arts education in the state. We offer a multitude of AP and IB courses coupled with solid supports for all students. Most recently, we introduced a policy of open enrollment allowing students who have the desire to take the most challenging courses offered at RBR.''