Return to Headlines
RBR Given A+ Rating By Niche as One of America's Best High Schools
RBR Given A+ Rating By Niche as One of America's Best High Schools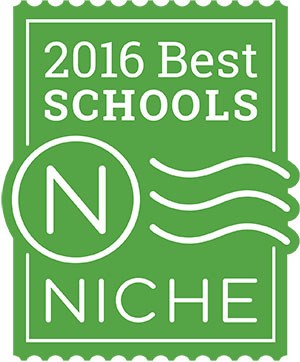 The Niche.com, Inc., recently released its 2016 national and state "Best High Schools" ratings, and ranked Red Bank Regional (RBR), as 56 in New Jersey. It also ranked RBR the third best high school in Monmouth County behind Rumson Fair Haven Regional (#40) and Holmdel (#52). RBR received an overall school district grade of "A+". It is ranked 567 in the nation among all the 23,861 school districts examined by Niche based on dozens of key statistics and millions of opinions from 300,000 students and parents. (Niche has significantly increased the number of schools it has reviewed from 8,738 from last year.) RBR's rating has actually increased from A to A+
The overall grade results from Niche's comprehensive assessment of the total experience of the district using data sourced from various government and public data sources, Niche's own proprietary data, and opinion-based survey responses of current students, recent alumni and parents. Schools are ranked from A+ to D- and with numerical values.
Several remarks from parents and students found on the Niche website follows: "Red Bank Regional is a unique school mostly because of the diversity it has- you get to make friends from all over due to the many sending districts it has; you'll become close with people from all different backgrounds."… "Most of the teachers go out of their way to engage with and get to know their students. They love what they do and put a lot of effort into their jobs."… "There's a wide variety of extracurricular activities available to the students- there's literally something for everyone." …Red Bank Regional definitely empowered its students to strive for the best and never settle for anything less.
Niche was founded in 2002 as College Prowler by a Carnegie Mellon Business major as a statistical on-line company for ranking colleges. It later added the rankings of k- 12 school, cities and neighborhoods to its site.
To view the entire ranking report, visit the Niche website at: https://k12.niche.com/rankings/public-high-schools/best-overall/s/new-jersey/.