Return to Headlines
RBR's Dynamic Piano Duo Play Vienna
RBR's Dynamic Piano Duo Play Vienna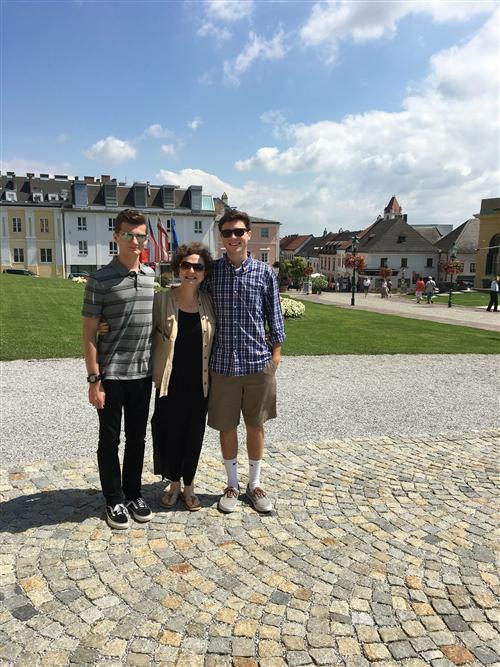 Little Silver residents and childhood friends Griffin Perry and Pieter Lootsma have shared their love for music all their lives. From third grade, they have been studying piano, currently with the same teacher. Both seniors at Red Bank Regional High School (RBR) have been stalwart performers in RBR's famed Visual & Performing Arts Academy as piano majors. They have performed in many school productions as well as community settings, including the National Guild of Piano Teachers. They have performed at Carnegie Hall at separate time with the National Golden Key Music Festival. This past summer, the friends shared the pinnacle of their musical careers performing in the gilded Ehrbar Hall in Vienna, Austria during, the International Golden Key Music Festival.
Both young men were selected for the gold award by audition joining thirty international students including eight Americans. In addition to their main performance in Ehrbar Hall, the students gave a second performance in the Mozart House, the famed musical composers' apartment in Vienna.
Pieter fittingly performed Mozart's Sonata in C minor as well as the Schubert's Impromptu No. 2. Griffin performed Beethoven's Temptest in D minor and Haydn's Sonata.
The young men traveled to Austria accompanied by their mothers and grandmother and joined their long-time piano teacher Marina Strakovsky of Rumson at the program. They were overwhelmed by the once-in –a lifetime experience.
Griffin comments, "When we weren't taking master classes or performing, we went on fantastic tours of Vienna including the famous composers' homes. We also traveled to nearby castles, and the cities of Salzburg, Baden and Eisenstaedt."
Pieter adds, "It was really cool to visit the places we learned about in music history classes. Both of the pieces we performed were works of the greatest composers of Austria which provided such context to our pieces."
Back home and beginning their final year in high school, both gentlemen are busy with school work and the added task of applying to college. Whatever their futures may hold, it is certain that music will always play an important part in their lives.
Griffin plans to either minor in music or double major in music and chemistry. Pieter hopes to major in music to compose music for the entertainment industry. Both have found an additional way to share their musical talents with the community as the officers of the recently revitalized local Cecilian Music Club, an organization dedicated to spreading classical music. Along with other young musicians they bring the joy of classical music to area nursing homes and assisted living residents.
RBR Piano teacher Camille Thompson comments on her students, "It is a joy working with Pieter and Griffin, two talented pianists with very different musical styles and personalities. As a performer Pieter has a sensitive and introspective approach to music. When Pieter composes, he includes his wry sense of humor and amazing harmonies. Griffin is an amazing accompanist. He has the ability to follow the performer wherever s/he takes him and still maintain musicality in the piano part."