Return to Headlines
RBR Visual & Performing Arts Students Hone their Craft through School Vacation
RBR Visual & Performing Arts Students Hone their Craft through School Vacation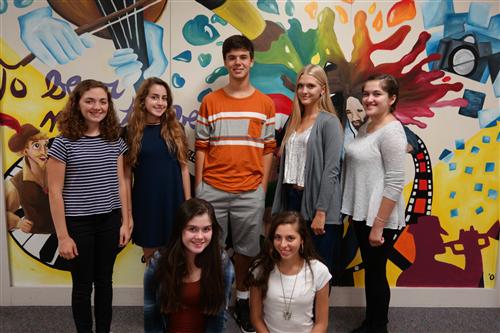 Red Bank Regional Academy of Performing Art students hail from all over Monmouth County. The program is a magnet to nourish their passion for performance which they continued to feed all summer long.
"Our students never cease to amaze me with their level of dedication and pursuit of perfection for their craft. I am always delighted to learn what wonderful programs they attended or experiences they had in pursuit of higher performing art achievement." RBR VPA Lead teacher Kris Zook acclaims.
Drama majors were very busy. Gabriella Scerbo of Little Silver performed over three months from May to July at the Rutgers Gardens, which is part of Rutgers University's Mason Gross School of Performing Arts. The play, Wonderland and You, was a modern version of the Alice & Wonderland story. Megan Moran, Neptune City, attended a Broadway Intensive program at Spring Lake Community Theatre, dancing, singing and acting to broaden her musical theatre abilities. Vocal major Mara Campolattaro of Rumson spent two weeks in Martha's Vineyard at a Musical Theatre Intensive with Broadway choreographers, writers, vocal coaches, performers and agents. Shea Grant of Little Silver landed an acting role for a National Geographic Website program promoting their TV show on Mars. The program debuts in October.
Creative Writing Majors Penny Hill and Jay Izzo, both of Little Silver, spent the summer months engaged in a the Red Bank Library's "Project Humans," interviewing local residents and recording their stories.
She explains, "I interviewed the woman who runs Lunch Break and discussed a recent book she published. It was a great opportunity to meet these residents."
Vocal major Claire Taylor plans to soon double major in drama. So she used her summer to perform in a play, Little Adu About Anything, an effort by 17 local playwrights with a modern twist on Shakespeare's classic comedy. The show, which took place in the Jersey Shore Arts Center in Ocean Grove, donated its proceeds to purchase books for underserved children.
Jack Gaccone-Stockwell of Red Bank took a two-week course in choral instruction at Westminster Choir College in Princeton NJ. He explains, "I wanted to get a more broad sense of my voice and how to use it better and in a more healthy way."
String majors Ethan Christenson attended Summer Jazz Camp at the Berklee College of Music in Massachusetts while his classmate Salvatore Giglio participated in a similar camp at the Count Basie Theatre in Red Bank,
RBR accomplished pianists and good friends Griffin Perry and Pieter Lootsma both of Little Silver traveled across the Atlantic to perform in the stunning concert halls of Vienna, Austria, during, the International Golden Key Music Festival, which they earned through competitive auditions.
This list is by no means exhaustive, but includes what was self-reported to our teachers. There are many RBR VPA students performing every day both in school and in community productions throughout the school year all with the purpose of honing the craft they are so passionate about.