Return to Headlines
RBR Professional Development Programs Augment Teachers Academic and Human Behavioral Skills
RBR Professional Development Programs Augment Teachers Academic and Human Behavioral Skills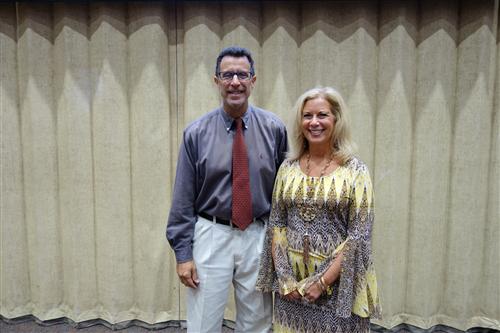 Every year, students are thrilled to receive a few bonus days off from school, while their teachers go back to school for Professional Development. Special programs are offered during that time to help teachers in their subject-specific areas, and sometimes more general, but just as valuable support, is provided. Such was the case in Red Bank Regional's (RBR) September 26 Professional Development day for teachers. The school district was able to secure the services of two highly esteemed professionals to conduct programs in two very different areas.
Educator, author and educational consultant Lawrence Scanlon discussed literacy strategies for both English and Social Studies teachers dealing with literary, historical and other non-fictional texts. . Mr. Scanlon served on the AP test development committee as well as the PSAT Committee for the Educational Testing Service. He also prepares teachers to teach AP Language and Composition during summer AP Institutes. RBR English teachers Andrew Forrest and Dr. Sara Mazzone attended his workshop in 2014 and gained so much from the week, they were thrilled when Larry could come to RBR. Mr. Scanlon is the co-author of both The Language of Composition and Literature and Composition text books. RBR has recently added these texts to its AP curriculum. To help students better construct their own argument. He discussed several concepts including Aristotle's rhetorical triangle of Ethos (Ethics), Pathos (emotion) and logos (Logic). Using this simple but perennially significant tool, a writer establishes credibility and constructs his argument in a way that makes the audience care about what is being communicated. He also discussed the SOAPS text construction strategy, a useful tool in discovering a piece's rhetorical situation.. This model for writing focuses on clearly identifying the speaker, occasion, audience, purpose and subject of the piece. He also offered some useful ideas for interpreting texts by presenting students with political cartoons without captions. This could be used to challenge students to analyze the author's position, assumptions and evidence.
Sometimes, teachers must employ other techniques far afield of teaching. De-escalating a potential violent situation, whether it be between students, employees or from visitors to the school, requires a special set of human behavior skills. For this special session, RBR Principal Risa Clay called on a colleague with whom she has worked very successfully during her educational career. Behavioral Scientist and Crisis Intervention Specialist Steven Crimando offered many practical techniques for teachers and staff to bring down the temperature to prevent a potentially explosive episode.
Steven Crimando, a Diplomate for the National Center for Crisis Management, Consultant and Trainer for the U.S. Department of Homeland Security, the Department of Justice, the United Nations, U.S. Military and NYPD Counterterrorism Unit (among others), offered practical but evidenced-based strategies. While some may appear to be common sense, most run counter-intuitive to how an individual might react in an emotionally difficult situation.
He explained, "The key to verbal de-escalation is not to control the other person. It is to influence the other person by how you control yourself."
You cannot reason verbally with someone who has lost control, that verbal part of his brain has already been overtaken by the emotional side. He instructed the educators to then do what they can to best, control their own response. This would include controlling their breathing (proven to lower blood pressure) their voice, their body language and their vocabulary. Just suggesting you get the irate person to sit, will help reduce his excitement level. He offered a helpful acronym to recall a non-threatening sitting stance for the teacher. SOLER connotes sitting squarely, with open posture, leaning forward, making eye contact at all times in a relaxed stance.
The power of verbal communication is very important in not just what you say but how you say it in moderating the volume, rate of speech, tone and inflection. In the latter, the way you emphasis a word can completely change the way you are received. Also, actually talking as loudly as the angry person initially, then gradually reducing the volume may cause him to model you and calm him down.
If you find you cannot bring down that person's temper, realize you cannot reason with an irate person. You then need to set limits. For example, "I understand that you are upset, but if you want to continue our conversation, you need to stop (yelling, threatening…etc.)—reinforce those limits – "I have asked you to stop (yelling, threatening… etc.). If you don't we will have to end this conversation and I will not ask you again---act on those limits,-- "It doesn't seem that you are able to stop (yelling… threatening) so we cannot continue this conversation."
Mr. Crimando stressed that teachers should foremost rely on their instincts in sensing danger, know who they need to call for help, and always be aware of their surroundings so they may successfully exit a potentially dangerous situation.