Return to Headlines
RBR Hosts a Community Screening, and Discussion Panel of Audrie & Daisy A Powerful Documentary of Teenage Sexual Assault, Cyberbullying and Suicide
RBR Hosts a Community Screening, and Discussion Panel of Audrie & Daisy
A Powerful Documentary of Teenage Sexual Assault, Cyberbullying and Suicide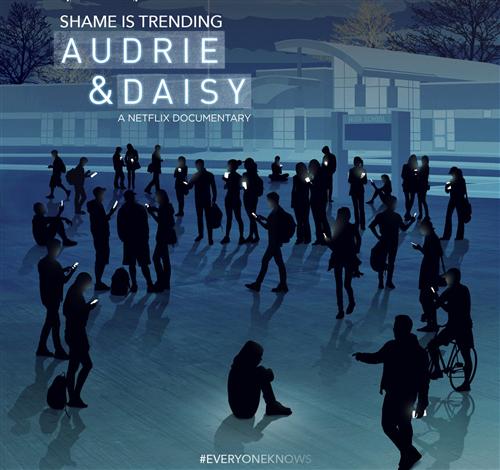 On Tuesday, November 1, the Red Bank Regional High School District (RBR) will host the screening of a powerful documentary, AUDRIE & DAISY. The event will take place at the RBR Theatre from 6:30 to 9 pm. RBR is located at 101 Ridge Road in Little Silver. The general public is welcome, and high school students are encouraged to attend with their parents. The film was screened at the 2016 Sundance Film Festival and debuted on NetFlix on September 23. AUDRIE & DAISY is an urgent real-life drama that examines the ripple effects on families, friends, schools and communities when two underage young women find that sexual assault crimes against them have been caught on camera. AUDRIE & DAISY takes a hard look at America's teenagers who are coming of age in this new world of social media bullying, spun wildly out of control. (Parents should be cautioned that this documentary deals with compelling and explicit real-life commentary on sensitive and difficult topics including sexual assault, cyberbullying and suicide. A Parent's Guide by the film maker states, "…it inevitably evokes difficult emotions for the viewer and that the film can be challenging to watch …"
Following the screening there will be a panel discussion of experts who will discuss and answer questions on the issues this film explores.
RBR Principal Risa Clay states, "There are so many complex issues in today's society. Our teens often face difficult challenges. Facilitating open and honest discussion is an essential part of addressing these serious issues. I am proud to be a part of this initiative to raise awareness and begin these important conversations."
The directors of the film, Bonni Cohen and Jon Shenk, were first drawn to this issue when they discovered the "frequency of sexual assaults in high schools across America and the pictures and videos posted on-line –almost as trophies—by teens that have committed these crimes."
They add, "While the subject matter is dark, we are inspired by these stories to make a film that captures these truths but can also help audiences digest the complicities of the world teenagers live in today."
The event is being sponsored by The SOURCE, RBR's School Based Youth Services Program in collaboration with the BUC Backer Foundation. Clinicians from the SOURCE will be present to moderate. We strongly urge students, parents and educators from throughout the area to join us for this very important presentation. There is no cost to attend this event but the public is encouraged to bring a food donation for the Source Food Pantry.
Information on the film can be seen by visiting http://www.audrieanddaisy.com/.