Return to Headlines
RBR Holds Important Panel Discussion on Issues of Film Audrie & Daisy Documentary Deals with Teenage Sexual Assault, Cyber bullying and Suicide
RBR Holds Important Panel Discussion on Issues of Film Audrie & Daisy
Documentary Deals with Teenage Sexual Assault, Cyber bullying and Suicide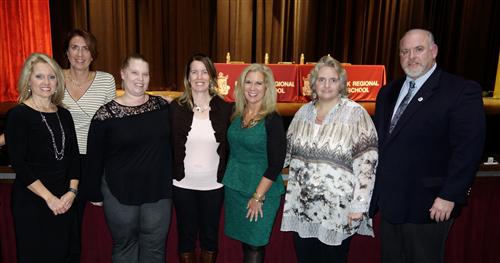 On November 1, The Red Bank Regional School District (RBR) invited the community to view a very provocative documentary dealing with the issues of teenage sexual assault, cyber bullying and suicide. While these issues have caused national headlines on college campuses, this film deals with the true stories involving middle school and high school students. The powerful film was heralded at the Sundance Film Festival and is available for rental on Netflix. A panel of professionals, moderated by RBR SOURCE Director Suzanne Keller, discussed the important issues presented by the film.
RBR Principal Risa Clay welcomed the audience to the program explaining, "We need to start this conversation, to talk to our boys as well as our girls and to explain everything we can about social media and its footprint."
Audrie Potts was a 14 year old freshman from Saratoga California in 2012 when she went to a party and consumed excessive amounts of alcohol. In a comatose state, she was sexually assaulted while several boys defiled her body by drawing vile statements in sharpie marker and then took pictures with their cell phones, which quickly surfaced on the internet. Within a week's time, when Audrie discovered the extent of her humiliation, she had committed suicide. Her parents sued the perpetrators in a wrongful death case to "get her reputation back." The defendants'' admissions and apologies where part of the documentary.
Daisy's mother commented, "The only reason we were successful is because Audrie is no longer with us."
Earlier that same year, 14 year-old Daisy Coleman and her 13-year-old friend Paige Parkhurst were each sexually assaulted in Maryville, Missouri by older high school boys when they attended a party with alcohol. The girls went to the hospital and reported the rape but the case was not successful in a town where the boys had political and community connections and protection. As a result, Daisy was viciously tormented in social media for "the trouble she caused" and her family's house was subsequently torched and burned to the ground. She attempted suicide several times. She did not settle in a safe state until another teenage rape victim, found her via the same social media that nearly destroyed her life. The girls formed a support group with other girls who had suffered the same horrific crime and torment. Together they found empowerment and self-preservation.
RBR convened a panel of professionals to discuss the disturbing truths of the film and the resources teenagers and parents have in the Monmouth County community to combat it.
Heather Church-Soto, the Director of DCP&P Services for the Monmouth County Traumatic Loss Coalition at the Community YMCA stated, "It has not been a great year when it comes to the death of our kids. All that you saw is happening here."
Principal Clay emphasized that the most important thing is "to continually educate our students." She assured the audience that the school does this. By law, the subject of safe dating is covered with every senior in health class. There are Board of Education policies covering social media usage and bullying. (Additionally, RBR is very fortunate to have a School Based Youth Services Program, The Source, which provides on–site counseling services to its students.)
She added, "The conversation on these things happen all the time in this building but the bridge to the community is imperative."
As the tragedies in the film were sparked by teenage underage drinking; parents were counseled to closely monitor their students' social activity, even if it can be construed as "spying on them."
Barbara A. Cashin, Director of Program Development at Tranquil & Quest of Bradley Beach commented, "feel free to search their rooms and look in their phones."
Claire Casey, the Sexual Violence Prevention Coordinator of 180 Turning Lives Around, added that teenagers would be most likely to confide in a friend than an adult, so it is important to be able to check your child's on-line accounts."
While alcohol can be blamed for poor judgment in teenagers, Claire Casey stated, "Most students do not know that having sex with someone inebriated or passed out is illegal." Barbara Cashin emphasized that point stating, "When alcohol and drugs are part of it, then consent does not make any sense. All bets are off; they don't have the ability to say no."
Shawn Murphy from the Monmouth County Prosecutor's Office explained that in the case where a young man believes the situation is mutual, he must understand, that the statement "no means no," is no longer enough, stating, "We need to teach young men to ask for verbalized consent. It can't be a gray area." Claire Casey added, "We talk about the 'active yes' even in middle school."
Regarding sexual assault, 180 Turning Life Around provides many free resources for victims including a 24/7 day a week hot line. They also run a safe dating program for middle as well as high school students which any school district in Monmouth County can access.
Heather Church-Soto also encouraged the audience members to continue the conversation with friends and neighbors stating, "The more information we get out there the more kids will come forward and move from the darkness to hope and resilience."
Resource information:
· Tranquil & Quest: Monmouth County based substance abuse services organization: 844-986-7837; tranquilandquest.com
· 180 Turning Lives Around, Inc'24 Hour Sexual Violence hotline 1-888-264-RAPE
· 2nd Floor® Youth Helpline 1-888-222-2228
· Monmouth County Traumatic Loss Coalition; 732-956-7782
· The Community YMCA's Outpatient Services; 732-290-9040