Return to Headlines
RBR Adopts Five Year Strategic Plan Interview with Superintendent Moore on Goals Guiding School District
RBR Adopts Five Year Strategic Plan
Interview with Superintendent Moore on Goals Guiding School District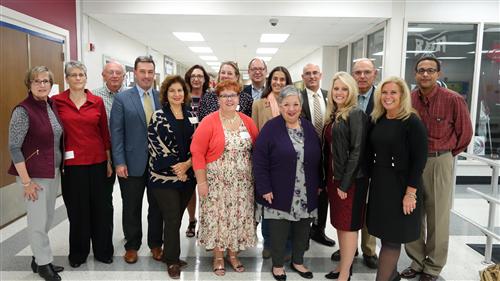 Every healthy organization is guided by sound strategic planning and definitive goals for future operation. So while the Red Bank Regional (RBR) School District conducted its search for a new district leader, it simultaneously brought together a group of staff, administration and citizens to develop a five-year strategic plan. Dr. Louis Moore, who was hired in July as the RBR superintendent, is now responsible to implement that plan going forward.
In a recent interview, Dr. Moore discussed the specific goals created by the RBR community and what they mean for education at RBR.
Goal #1: To expand the use of education technology, including Google School platforms, to increase student engagement and technology integration into the instructional program.
Google School Apps for Education are tools that support teachers and can enhance the learning experience for everyone. Google Classroom allows teachers to organize assignments and links students to web-based resources. Other tools assist teachers with day-to-day tasks. For instance, a teacher could assign a quiz and a Google tool can assist with grading it. Other applications allow students to work collaboratively on projects in the classroom or from home with guidance from their teacher. Many of the Apps are already being used by teachers and students. Our goal is provide high quality professional development to consolidate the excellent work already going on, promote unity, and support efforts to further improve the use of instructional technology.
Goal #2: Consistent with the direction provided in the Strategic Plan, to develop and implement plans to establish new and strengthen existing academy programs
Currently RBR has four, 4-year academies in Visual & Performing Arts, Academy of Information Technology, Finance, and Engineering. Our goal is to expand the four-year model with two additional academies. One will be in Early Childhood Education building on the popular Early Childhood Education program, and another will be created by expanding the Sports and Medicine Academy to include a bio-medical strand. For those students who choose not to participate in an academy, it is my hope to introduce a capstone senior project, similar to what is done in the International Baccalaureate diploma program. This may include expanded options for internship experiences.
Goal #3: To expand access to and enrollment in programs that link students to real world career options and college readiness experiences. These programs include dual enrollment course, AP and IB program, as well as programs that serve the needs of both college-bound and non-college bound students.
RBR currently offers six dual credit-courses, (see appended table*). We hope to create a culinary arts dual-credit course through a partnership with Brookdale College. And we are seeking additional Dual Credit courses for the VPA. It is our intention to aggressively recruit all students to avail themselves of all our course offerings, which offer college credit. As previously mentioned, internship opportunities will also allow our students to explore career paths and vocations.
Current Dual-Credit Courses*
| | | |
| --- | --- | --- |
| Syracuse University | Georgian Court University | Fairleigh Dickinson University |
| Forensic Science, Cybersecurity, Calculus III; | Nutrition and Wellness, Foundations of Exercise Science. | Sports Administration; Anatomy and Physiology, Drama 4, Creative Writing 4, Tomorrow's Teacher, Graphic Novels and Visual Literacy |

Goal #4: To increase the communication and collaboration between the district, our communities, and families with the objective of increasing awareness, involvement and engagement.
The exercise of bringing in community members through the strategic plan, has given us the opportunity to expand our outreach to the general community. Members from other school districts and municipal councils are now frequent visitors to our Board of Education meetings and school programs. I would also like to reestablish the practice of meeting monthly with our parent community in a Superintendent Round Table with a Saturday morning coffee with parents. We hope to begin this in December and throughout the spring school year.
Goal #5: To explore facility needs and options to address enrollment increase and instructional needs.
The Board of Education recently sought proposals for an enrollment study and a complete facility analysis. Once that is complete, the District's architects will work with the Board to identify facility needs and update our long range facility plan. Qualitative support upgrades will be considered to create different types of learning spaces. But we will also consider other changes that are positive and make good common sense such as upgrading lighting to reduce costs in the long term. The Board hopes to announce the results of these studies by January or February of 2017.
A list of the Community, staff and administrative members who participated in RBR
Five-Year Strategic Plan, which was facilitated by the School Boards Association over the 2015-2016 school year follows:
Alitia Faccone, Ann Roseman, Donald Galante, Elizabeth McDermott, James Scavone, Jared Rumage, Jean Hartline, Kathy Horgan, Linda Schwabenbauer, Luz Velasquez, Marianne Kligman, Michael Haval, Paul O'Connor, Rob Donohue, Robert C. Neff, Jr., Terrence Porter, Thomas Russo Wayne Wooley, Adam Recktenwald, Alan Choback, Annie Murray, Bruce Whitaker, Carolyn Campo, Cathy Reardon, Christina Galvao, Dawn Kaszuba, Emily Doherty, John Daniels, Judy DeHaven, Judy Noglows, Katherine Kerber, Kevin Benny, Marianne Quirk, Mary Karlo, Mary Kate Kane, Paul Noglows, Phyllis Sauer, Hannah Sauer, Rick Van Loon, Rob Birn, Scott McBride, Sona Polkowski, Sue Zielinski, Sunny Lenhard, Thomas Pagano, Tom McDonough. Del Dal Pra, Risa Clay, Committee Coordinator Suzanne Keller.