Return to Headlines
RBR Establishes Athletic Hall of Fame and Seeks Nominations to its Inaugural Class
RBR Establishes Athletic Hall of Fame and Seeks Nominations to its Inaugural Class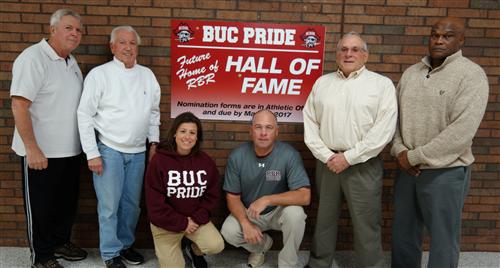 For the first time in its storied 100-year history, The Red Bank Regional (RBR) High School District is establishing an Athletic Hall of Fame. The Athletic Hall of Fame Committee will seek to induct individuals (including student athletes, and coaches) and teams who have made significant contributions to the school's athletic program. Alumni nominees need to have graduated over 10 years ago and faculty must be retired. Nominations are welcome from former coaches, faculty, students and alumni that span the history of the high school, including posthumously. Those seeking to make nominations should contact RBR Athletic Director Del Dal Pra at ldalpra@rbrhs.org or 732- 842-8000, ext. 1-233. Nominations will be accepted through May 1, 2017. The Inaugural Induction will take place in October of 2017.
"This is a daunting undertaking," Athletic Director Del Dal Pra admits, "But we have a wonderful committee that has been enthusiastically working on this endeavor doing research through our yearbooks and press archives."
One of the committee members is Red Bank resident Charles Taylor, a 1970 Red Bank alumnus, who played football, basketball and baseball and served as the captain of all three sports. He introduced the idea of establishing an athletic hall of fame at a recent board meeting when several alumni were seeking some way of honoring their beloved coach.
Mr. Taylor states, "I was looking around the area and noticed that RBR was the only school that did not have an athletic hall of fame and thought this might be the perfect time to start one."
Mr. Taylor, a retired high school coach, is joined on the committee by Del Dal Pra and Christina Emrich, RBR's athletic trainer and RBR alumna. Other founding committee members include: Bill Galatro, Red Bank, class of 1967, who played football for Red Bank High School and is a retired educator and coach; Nick Pizzulli, Oceanport, a former RBR teacher, athletic director and coach; and Lou DeGeorge, Red Bank, a RBR retired Vice Principal and baseball coach. Mr. DeGeorge is also well known as a basketball official and umpire in the Shore Conference.
The committee has a very prolific universe to examine as Red Bank has sent many successful athletes on to college and professional sports in the 20th century. Mr. Pizzulli has created a binder of stats that go back to the 1920s from on-line records he researched in the defunct Daily Register and the Asbury Park Press in order to confirm information for nominations.
The new entity is distinct from the decade-old Distinguished Alumni Hall of Fame, which is sponsored and operated by the RBR Buc Backer Education Foundation. The mission of the Distinguished Alumni Hall of Fame is to honor notable past alumni for outstanding professional achievement as well as community service. The RBR Athletic Hall of Fame would pertain to athletic achievement in high school as well as college and professional athletics. While nominations will be sought through May 1 for the upcoming year, the committee plans to celebrate the honorees with a dinner on the eve of the RBR football game versus Red Bank Catholic on October 28, 2017. The inductees will also be introduced in a half time ceremony at that game.
Del Dal Pra comments, "The great thing is we have accumulated information to meet the people that know the stories of these athletes. For instance, we have an athlete playing for us now whose great-grandfather played for the original undefeated football team in 1922. Our goal is to create this for the next generation to continue."