Return to Headlines
Eric LeGrand Brings Message to RBR of Hope, Optimism and Triumph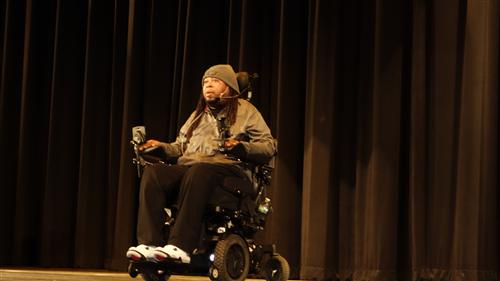 On December 7, Red Bank Regional High School (RBR) was proud to welcome Eric LeGrand, the star Rutgers's football player who, paralyzed from an injury sustained during his junior year in 2010, went on to lead a most inspirational and consequential life. He is a motivational speaker, supports a foundation to find a cure for paralysis, and works as a sports broadcaster. His visit was made possible, in part, by a grant from the Red Bank High School Class of 1966.
RBR Principal Risa Clay remarked, "We are so excited to have Eric visit us today. His inspirational message of courage in the face of great adversity is of enormous value and we thank the Class of 1966 for helping to make it possible."
Following a biographical video, Eric entered the RBR stage and described the fateful day and play that changed his life forever. In a soft-spoken voice, he recounted the moment of impact to his head when he suddenly could no longer take a breath.
He recalls, "My head coach told me to pray, and I thought my life was over."
He described the blur of the next few days when he would wake intermittently to a room full of doctors and later to an empty room filled with noisy machines. Then, finally one day he opened his eyes to the delight of smiling loved ones and teammates. He was excited that the former coach of the Giants came to visit him. He considers himself fortunate for not initially knowing the magnitude of his condition in those early days. He had broken his C3 and C4 vertebrae.
He explained, "I was the lucky one, the people around me suffered. The doctors told my mom that I would never walk or eat solid food or breathe on my own."
With the grit and determination instilled into him from years of practicing his beloved sport, he decided to prove the doctors wrong. Today he breathes on his own and demonstrates just how much progress he has made in regaining movement as he shimmies his upper body all around in his wheelchair.
"I am lucky." He stated, "I can continue to go to therapy, most people on regular insurance only get 30 visits."
When a student asked if he could eat solid food he replied, "Did you see this gut?"
And he is determined someday to walk back on High Point Solutions Stadium and "finish the play."
When asked if he was ever depressed or bitter, he recounted the stories of two people he encountered during his journey to recovery. One he never met, but witnessed the pain and suffering of her loved ones, when they realized that the young woman who was rushed to emergency did not survive. He never wanted his loved ones to endure that pain. Then in rehab, he met a spirited young man who became his good buddy. They would hang out in his room together since Rutgers treated him very well providing satellite service for TV and xbox for entertainment. Weeks after his discharge, Eric met his friend at an out-patient, wheelchair-fitting only to discover that his friend no longer recognized him. Eric explained that his cancerous tumor, which caused his initial paralysis, had spread to his brain; he died soon after.
He told the students, "It put a lot of things in perspective. I decided I would never complain again. Focus on the things you do have and not on the things you don't. For whatever you have someone else always has it worse. I appreciate being able to take a breath each and every day."
He also refused to criticize football, stating that he would do it all again, as "football gave me so much and made me the man I am today." He also holds no enmity toward the player involved in his injury telling the students, "I was the one who tackled him."
When asked who his mentors are and who gives him inspiration, he named his mentors as Tim Tebow and Tommy Moffett, both sports celebrities who he was honored to meet and get to know. But, his most devout inspiration is reserved for his mom.
He stated, "Everything she does, she does for me—learning how to take care of a paraplegic, bringing me here, helping on the foundation, taking care of a puppy. She gave up her life for me. She is my inspiration and my motivation."
The students were enthralled by Eric, and continued to pepper him with questions. When he spoke there was silence in an auditorium filled with 750 teenagers.
Sophomore Richard Bakalian commented, "I thing he expressed a lot of perseverance. He had the world snatched away from him and yet he went on to try to walk again. I think he is a very inspiring person."
Senior Phoebe Carr added, "He was so relatable and I think everyone got so much out of his talk."
Dr. Bill Setaro who helped organize the Class of 1966 donation that brought Eric to RBR stated, "His presentation was very moving and motivational and the questions the students asked were excellent and I think he hit his goal to motivate people to try their best to succeed."
Eric LeGrand encouraged the students to live their lives to the fullest, to enjoy high school and to accomplish. He explained that he was able to finish his degree via Skype, and that dictating all his term papers was not easy.
He concluded his visit telling the students, "I believe everything in this world happens for a reason. I was put here to help. Christopher Reeve, Superman, started this research before he died. I feel I took over his job. I want to live out his dream and keep raising money and awareness. Live your everyday life. Be the best you can be. Be appreciative for every moment. And don't ever let anybody tell you (that) you can't do something."