Return to Headlines
International Baccalaureate Program offers RBR students a great Challenge for Student Success
International Baccalaureate Program offers RBR students a great Challenge for Student Success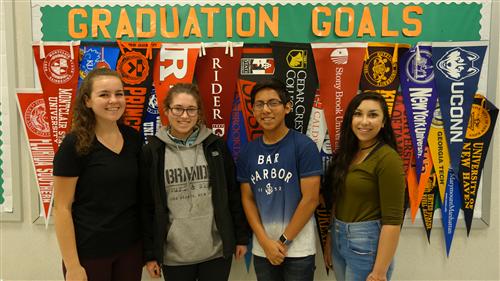 For the past six years, RBR has been one of only four schools in the county and 14 in the state to offer the internationally renowned and respected International Baccalaureate Diploma (IB) program. This rigorous program offers immense benefits for the students including a higher percentage of college acceptances to more selective schools. Similar to AP classes, many schools offer college credit for the IB courses. In some cases, students have acquired enough college credit through the IB program to begin their college careers as sophomores.
"These are some of the extrinsic values of the IB diploma," according to IB coordinator Ryan Hilligus. He adds, "However, the intrinsic values are much more valuable including: exceptional time management skills to handle the demands and pressure of college; improved oral and presentation skills; opportunity to apply research and writing skills at a college level; increased global awareness and strong relationships with peers."
The IB program is offered to junior and seniors and does not require prerequisite courses; and, therefore, is open to any motivated student in the school. Requirements to obtain the IB diploma include completing six core subject classes and the IB signature Theory of Knowledge (TOK) course. Additional requirements include a 4,000 word essay and the completion of continuous activities outside the classroom over two years (sports, extracurricular and community service).
IB TOK teacher Rose Powers explains, "The TOK course examines the interconnectedness of knowledge across the academic areas, and encourages students to think critically about the nature of knowledge - What is knowledge? What are its values and when should one question its validity? In addition, the TOK course helps students gain appreciation of other cultural perspectives and awareness of global paradigm shifts. It also provides the student with meaningful experiences outside of the classroom through our field trips and various program activities."
Students can also take IB courses as electives or in place of their core classes without seeking the diploma. They are eligible to receive college credit for each IB course they complete. College course credit requires passage of end-term exams which are graded by an external panel and other assessments conducted throughout the courses, which are graded internally.
Several current IB students recently discussed their experience with the program. Senior Alex Sosa, who is a creative writing major in the VPA, explained that she choose to pursue the IB route since she is a better writer than a multiple-choice test taker. She adds, "It is definitely a rigorous program with the extended essay and internal assessments for each class, but the beauty of it is that it prepares you so well for college and shows you what you're capable of."
Senior Kristen Wimmer naturally gravitated to the program as she hopes to major in international studies and would like to work abroad someday. She was not disappointed, stating that the classes gave her a broader understanding of the world. But she soon realized the intrinsic value Mr. Hilligus described stating, "The TEO class brings you to a deeper level of thinking. You learn to do an analysis of issues rather than just learn about them."
Junior CeCe McCarthy prefers the open discussion in a small class environment and states, "Rather than taking a lot of notes and memorizing facts, we are learning with our classmates through discussion."
Senior Adrian Hernandez took the program with the desire to take advantage of every exceptional opportunity offered to him at RBR. However, he was quite surprised how the special requirements of the IB forced him to explore activities and skills he never thought about previously. He explains, "Through the required physical activity, I began going to the gym and took up boxing. For the creativity requirement I learned to play the ukulele and guitar. Now I am thinking about taking violin and the harp."
All agreed that the program improved their writing and their communication skills which will be immensely helpful in college and, in general, life.
CeCe added, "It requires you to also do community service hours. This year I intend to do beach sweeps with the school and participate in Relay for Life. It makes you a well-rounded person."