Return to Headlines
Michael DeCotis RBR's 2017 Educational Services Professional
Michael DeCotis RBR's 2017 Educational Services Professional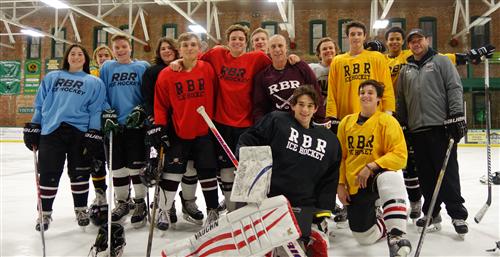 For over 21 years, Michael DeCotis has been serving the students at RBR high school, as a teacher, an ice hockey coach and a school counselor. He is a man of few words, and is very humble to receive the accolade as RBR's Educational Service Professional of the Year, stating, "It is all and always will be about the kids."
A native of West Long Branch, a graphic arts/wood shop teacher inspired him long ago to seek a career in education. He graduated from Trenton State College with his degree in education but opted to begin a career in construction which he described as a "higher paying" industry at the time. But time and circumstance brought him back to his original goal and he became an industrial arts teacher at RBR in 1995 where he taught the building trades. During his teaching career at RBR he also taught graphic arts, instructed in the co-op program and eventually taught engineering in the newly formed Academy of Engineering. His industrial arts experience was put to good use in VPA as he helped build the drama and musical stages for years. He earned his masters at Monmouth University in school counseling in 2006.
Mike DeCotis explains his decision to transition to guidance counseling to "help students who are less fortunate and need an advocate."
He was tapped to become the Freshman Academy Guidance Counselor, when RBR began that academy in 2007. As the counselor for all freshmen, he meets with the freshman academy teachers on a regular basis to make sure they transition well into high school and that any potential problems or issues are discovered and addressed to ensure student success.
He states of his latest role at RBR, "I like the concept of the team approach with the freshmen. I meet regularly with the core group of teachers in order to discuss students who are struggling academically or emotionally."
Principal Risa Clay states, "Our students appreciate the open communication and rapport they enjoy with Mr. DeCotis. They consistently comment that it is easy to talk to him and that they feel safe discussing any topic. Of course they also think he is a great hockey coach!"