Return to Headlines
Sunny Lenhard, RBR's 2017 Teacher of the Year
Sunny Lenhard, RBR's 2017 Teacher of the Year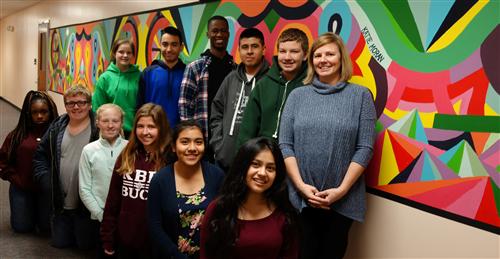 Sunny Lenhard has had multiple successful careers in her life, a successful international application specialist and manager for a chemical company, an award-winning residential broker; however, she claims teaching, by far, to be the toughest career she ever had and the most rewarding.
In the seven years she has been with RBR, Mrs. Lenhard has been, according to Principal Risa Clay, a "force to be reckoned with and a positive driving influence at Red Bank Regional High School." She serves as the lead teacher in the RBR Freshman Academy spearheading many initiatives to enhance and improve the skills of freshmen. She researched and implemented student-selected study groups for math during study hall and supervised the peer tutors who worked with these students. She piloted a math-focused academic support program for children who needed additional supports in Algebra 1 and Geometry utilizing peer tutors that she personally recruited and trained. This led to a formal request to RBR administration for a new course "Everyday Algebra" for students who need to develop algebraic understanding at a more appropriate pace. The course was successfully implemented this past year.
She was a lead proponent for the "Flipped Classroom" which successfully piloted this new learning strategy in her Algebra I classroom. Several units in math continue to be introduced in this manor and are used for certain students on a regular basis.
She comments "It is extremely valuable to the kids who have gaps in a subject area, as they have an opportunity to master these skills at home at their own pace."
Helping the kids who "have gaps" and, therefore, underachieve has become a priority to Mrs. Lenhard who earned her Masters' in Urban Education from New Jersey City University in 2014. (She earned her Bachelor's degree from Bucknell University in Chemical Engineering in 1993.)
Ever attuned to her students' special needs, she discovered that while some students need help with homework, their "other responsibilities" such as after school sports, child care or work obligations prevented them from taking advantage of after-school tutoring programs. At her urging, and with the strong sponsorship and support of the Freshman Academy and Source Director Suzanne Keller, a successful community tutoring program began three years ago. This year, it moved to an additional location and supports all grade levels, in addition to the initial freshmen and sophomores for which it was implemented. She supervises and tutors in that program two evenings a week.
Risa Clay remarks, "Sunny has had a very strong effect on her students' lives from easing their transition to high school to giving them the confidence and courage to succeed in Algebra. Some students comment that she has even made geometry their favorite subject."
Sunny Lenhard has had several rewarding careers. But she claims there is nothing like the "Ah ha moments" she experiences every day in teaching in "seeing the smiles when students understand a very difficult concept. Or watching students evolve from silent and overwhelmed to confident and outspoken."
A good teacher will do that.