Return to Headlines
RBR Alumni Participate in the New Year's College Bowl Games
RBR Alumni Participate in the New Year's College Bowl Games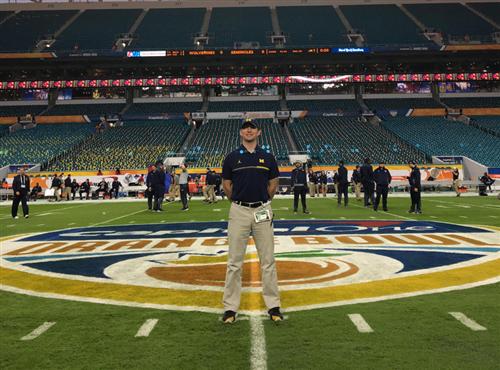 RBR alumni were well-represented at this year's New Year's football Bowl Games. People following the stellar career of Garrett Sickels, Red Bank, (who was recently selected the Most Valuable Defensive Player at Penn State, and has declared his eligibility for the spring professional football draft) knew he would be playing in the Rose Bowl on January 2 in Pasadena, CA. But they probably didn't know that he had some alumni company. Fellow RBR alumnus and Nittany Lion senior Clifton O'Malley, Little Silver, plays trombone for the Penn State Blue Band, which is recognized as one of the top college bands in the United States. Cliff acted as the marching guide for the entire 320+ members of the Blue Band the day of the Rose Bowl. Additionally, 2014 RBR alumna Gabriella Redaelli, Little Silver, performed at the Rose Bowl parade as one of the Penn State Lionettes, the University's dance team. Gabriella was a dance major in RBR's Visual Performing Arts academy.
In a different bowl game on a different day, RBR 2013 alumnus Carey Neff worked as the head student manager for University of Michigan's Wolverines football team. Carey, a sports management major, was responsible for logistics involving 18 people, setting up practice files, assisting coaches and reporting plays that are later matched up to film. The Orange Bowl took place on December 30 in Miami Gardens, Florida.
Carey Neff states of his entire experience, "It has been a great one. I've loved learning under Coach Harbaugh, my time as a manager has definitely provided me with my favorite memories and the most defining moments of my college career. It has provided me with opportunities that I wouldn't be able to experience anywhere else.