Return to Headlines
RBR Drama Majors Give Special Performance for Shrewsbury Homesteaders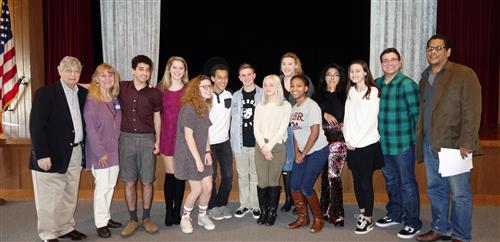 On January 12, an entourage of Red Bank Regional (RBR) drama majors from the renowned Visual & Performing Arts Center showcased their talents to the Shrewsbury Homesteaders at their January meeting.
"We always look forward to a visit and performance from our high school's talented Visual & Performing Arts students. The members absolutely love having the students perform," stated RBR drama teacher Reuben Jackson.
The students treated their audience to a medley of performances in original song, poetry readings and play performances including soliloquies from Shakespeare's' Othello, A Midsummer Nights' Dream and Comedy of Errors. The actors from RBR's recently staged The Crucible, by Arthur Miller, reenacted a scene from that timeless play. Afterward, the audience peppered the students with questions on their passions and plans for the future. While not all intend to major in drama in college or perform professionally, they all agreed that acting would always be a passion in their lives.
One young lady informed the residents that her dream was to become a teacher to which Shrewsbury Homesteader and Shrewsbury Boro teacher Sallyann Jaush responded, "Acting is very important, as a teacher has an audience in front of her/him every day and the skills learned from acting can definitely help the teacher captivate their audience."
The RBR's award-winning Visual & Performing Arts Academy was founded 33 years ago and today offers majors in: studio art, photography, creative writing, dance, drama, interactive media, instrumental music, brass percussion, woodwinds, strings, guitar harp, piano and vocal music. Its state certification in career technology education enables it to take qualifying students from throughout Monmouth County on a tuition basis. For more information on the RBR VPA academy visit the website at https://www.rbrhs.org/Page/884.