Return to Headlines
RBR Investment in a Healthier Generation Strength and Conditioning Coach Enthusiasm Motivates Results
RBR Investment in a Healthier Generation
Strength and Conditioning Coach Enthusiasm Motivates Results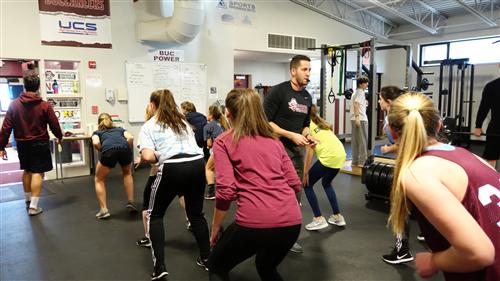 "With the rate of youth obesity growing each year, this generation of young people will be the first to have a shorter life span than their parents," exclaims Red Bank Regional (RBR) Athletic Director (AD) Del Dal Pra, "unless, we as a society do something about it; at RBR we are doing something about it."
AD Del Pra refers to the RBR latest investment in their students' health, a new fitness center building addition, financed by the RBR School Board and furnished with donations primarily from the RBR BUC Backer Foundation and the Buccaneer Athletic Foundation. The public/private partnership created a striking facility which is in constant utilization. During the school day, the physical education classes use it in conjunction with an overall "Wellness Room" filled with bikes and TRX equipment (the original, much smaller weight room.) Most recently, the Board funded the addition of a strength and conditioning coach whose job it is to lead training for students after school hours.
Jack Provine, RBR physical education teacher and certified strength & conditioning coach, fills that position at RBR with workouts every day. A schedule is created to provide "in-season" teams and "out-of-season teams" the opportunity to train. The first time slot after school is also available to the entire student population. Up to 60 students could be training with Coach Provine during these training sessions. At any point there may be 10 to 15 students from the general population working out along the teams. Coach Provine details the process to which the students move fluidly and rapidly to the cue of his whistle or demonstration.
He explains, "We will start with a general warm-up to get the body moving and heart rate up such as jumping jacks. Then we do a more specific warm-up—covering the entire body priming the body to train (head-to-toe movements). That is followed by agility/movement work including lineal, lateral and multi-directional drills. We then add plyometric* exercises such as jumps or medicine ball throws. *[plyometrics are powerful moves that start with an eccentric (muscle lengthening) action and is immediately followed by a concentric (muscle shortening) action]. Finally, students move to the strength portion of the entire session. In all, we do a full-body functional work out."
AD Dal Pra comments, "Jack is terrific. Among all the exceptional coaches I have known through the years, the common thread was the enthusiasm they model and engender in their students. Jack's got that. He has the kids really enthusiastic to train and work hard."
On one particular day in the winter season, the girls Lacrosse team, which plays in the spring, were training for their up-coming season. Baseball/Soccer Coach, Nick Tucker, assisted Coach Provine during the workout.
Coach Tucker, comments, "This new position is great. I always try to get the athletes to work out in the off season, but now we have a coach to do it with them. He is really helping with our athlete's endurance and strength. I know it will have a very positive effect on our athletic teams' performance and breeds more pride in our athletics and our school."
Lacrosse player Amy Lonergan comments, "This is a great alternative for many of us who used to pay for a program to get us into shape for our season. Coach Provine is a great coach and so motivational."
Some students have used the room to pursue individual workout programs such as required by their International Baccalaureate program or in lieu of a neighborhood gym.
AD Del Dal Pra comments, "By being proactive with a facility and after-school program like this, taught by a qualified coach, we are striving to make our kids into healthy adults. It is a grass roots movement that should find expression in other school districts and towns.