Return to Headlines
RBR Student Honored by Red Bank Council for Winning Park & Recreation Logo Design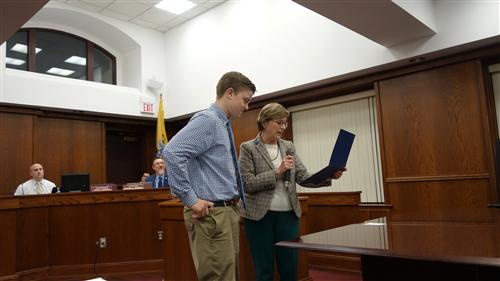 There will be a new sign greeting people around Red Bank in the near future. A blue circle surrounds the Riverside Park's welcoming arch, which frames the Navesink River beneath fair-weather clouds floating in a pretty pink sky. A musical note flanked by a soccer ball and baseball signifies just some of the activities Red Bank Park and Recreation offers to its citizens. The Red Bank Parks & Recreation Department (RBP&R) unveiled its new logo at the borough's January 25 council meeting as the Mayor and Council honored its creator (RBR) studio art major Jack Davis of Little Silver. Jack is a sophomore in RBR's Visual & Performing Arts Academy.
RBP&R Director Charlie Hoffman told the Council and audience how he was inspired by the iconic maple leaf logo in New York's Central Park and the trail logo at the Monmouth County Parks Department, stating, "I really wish we could have a logo like these." Utilizing the talent right within his town's own regional high school, Charlie Hoffman asked RBR art teacher Claudia O'Connor if she could create an art contest among the RBR Visual & Performing Art Academy's art majors to make that desire a reality.
In Mrs. O'Connor's class and with the help of her student teacher Kristen Brinkman, twenty designs were created by RBR art students, out of which seven were selected as finalists. Mr. Hoffman stated that all were exceptional, but after input from residents, students, political leadership and "anyone he could find in the street," Jack's design was hands down the favorite."
Mr. Hoffman unveiled two designs --one in color for all flyers, social media, and signs. Another in black & white will be used for sports jerseys and camp staff shirts.
Jack Davis commented on the inspiration for his design, "I was born in Red Bank and always loved riding my bike around. I always thought of the Riverside Garden's arch as the entrance to the town just above the beautiful river."
Council President Kathleen Horrigan presented Jack with a certificate signed by Mayor Pasquale Menna in appreciation for his generous contribution of time and creativity to create a symbol for the borough's Park & Recreation Department.