Return to Headlines
RBR AOIT Students Sweep CyberPatriot State Championship Taking 1st, 2nd and 3rd Place Again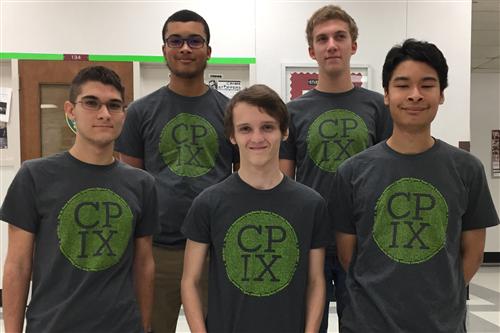 The recent hacking of American government and corporate institutions have rocked our nation and emphasized how important a superior cyber security industry is to the defense of the United States. Finding talented individuals to fill the future roles of our Cyber Patriot warriors is the reason the Air Force Association's CyberPatriot Competitions were developed. For the past eight years, Red Bank Regional High School (RBR) has offered a superior program in Cyber Security for its students in the award-winning Academy of Information Technology (AOIT). In fact, in the first year the Cyberpatriot contest opened to public high schools, RBR took first place in the nation.
RBR exhibited this same strong performance in the CyberPatriotState Round that took place January 14th . That day six RBR teams worked from the school media center to compete virtually, determined to take the title for New Jersey. They ended the six hours competition by sweeping the first, second and third place NJ State finishes. This is the second year in a row that three RBR AOIT teams won all three top places in the state competition, and the third year RBR took both first and second place. The teams are coached by RBR AOIT Teachers Mandy Galante and Jeremy Milonas.
These three teams have now earned eligibility for the elite level of the CyberPatriot competition. Out of the 1,548 Open Division teams across the country that started in September, only the top three from each state plus 36 wildcard teams will advance to the Regionals Platinum competition which will be held virtually February 4th. Their goal: be one of the top 12 high scoring teams and earn a trip to the Nationals competition taking place this April in Baltimore.


The First PlaceTeam Maroon include: Young Chen, Belmar; Andrew Costa, Shrewsbury; Woody Quinn, Little Silver; Bobby Villaluz, Shrewsbury; Jack Ferrone, Shrewsbury; Kyle Neary, Shrewsbury. Teem Maroon scores were ninth in the nation among 1,548 teams.
Second place Team Gray included: Dylan McRae, Union Beach; Max Mason, Belmar; Makoto Brown, Tinton Falls; Matt Cindrario, Shrewsbury; NahjeekMitter, Red Bank; Jared Prezwodek, Little Silver.
Third Place Team White included: Team White 3rd place in the CyberPatriot New Jersey State competition include: Josh Goldsmith, Little Silver ;Charlotte Jansky, Little Silver; Akin Gaddis, Red Bank; Chloe Sharpe, Bradley Beach; Brycen Greco, Neptune City; Harry Jain, Red Bank.
The Cybersecurity curriculum was developed in 2008 by IT professional and RBR AOIT teacher Mandy Galante. It encompasses a four year instructional-track in computer hardware, networking, security and digital forensics, with a concentration on active labs with real equipment. This unique curriculum coordinates with computer science to build a solid foundation in cyber security. The purpose of this track is to spark student interest in a crucial career path which protects American government and corporate assets against cyber attacks.
For more information on the CyberPatriot Competitions visit their website at https://www.uscyberpatriot.org/.