Return to Headlines
RBR's Chris Outterbridge Signs to Play for Sacred Heart on National Signing Day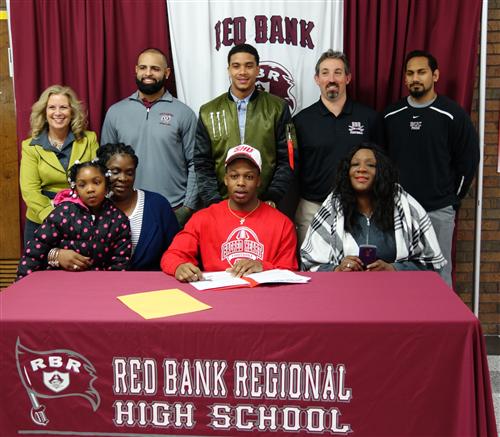 On National Signing Day, Red Bank Regional (RBR) senior and RBR Football Captain Chris Outterbridge signed to play football at Sacred Heart University in Fairfield Conneticut. Chris played both offense and defense last season as a linebacker and fullback. He received a full scholarship to Sacred Heart where he wants to study nursing to follow in his mother's profession.
He states that when he and his family visited the Fairfield Connecticut campus he knew he was in the right place for both football and his studies.
Chris explains, "The coaches were really great and they had the program of study I wanted." He adds about his high school football experiences, "The program at RBR transformed me and helped me mature."
Chris also played basketball at RBR and has been active in his Red Bank Community volunteering at both Lunch Break and Big Brothers and Sisters.
His RBR football coach Nick Giglio states, "Chris Outterbridge is a tremendous football player and an even better young man. Chris gets noticed on and off the field by the way he plays, the way he handles himself, and because of his high character with which he represents himself, his family, his teammates, and the RBR Community on a daily basis. I would have to say that the world needs more people like Chris in it! Sacred Heart is not only getting a terrific football player, but a future captain on their campus as well. We wish Chris the very best of luck and we look forward to following him throughout his career."