Return to Headlines
RBR Celebrates Black History Month Highlighting Education as Key to African American Success
RBR Celebrates Black History Month Highlighting Education as Key to African American Success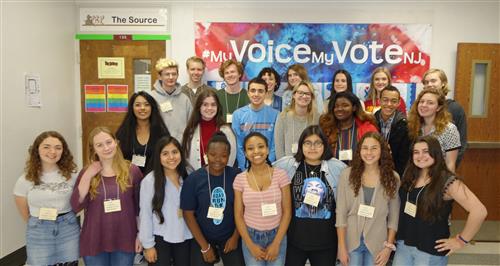 "Education is the key to life," Red Bank Regional (RBR) 2013 alumna Lynese Rawlins (formerly of Red Bank) told the RBR student body in celebration of Black History Month which was held on February 2. A very successful college student, who recently graduated early from Montclair State University and plans to attend law school in the fall, Lynese returned to her alma mater as its Black History Month keynote speaker. A high-achieving student at RBR as president of her senior class, captain of the cheerleading squad and recipient of the NJ Governor's award in 2013, Lynese serves as a as a local role model of how hard work and determination breeds success.
The celebration was coordinated by the RBR Multicultural club and assisted by performances from the school's Visual & Performing Arts Academy as well as the history club. The later created a power point presentation on education and Black American history entitled, "The Fight for Equity in Education." The Multicultural club students explained that while freedom from slavery was won over 150 years ago, the access to quality education is still not uniformly implemented. From the Plessy versus Ferguson Supreme Court ruling of 1896 (which held the misnomer doctrine of "Separate but Equal") to the landmark 1954 Brown versus the Topeka Board of Education case(which legally ended segregation) America's quest for equity in education did not always move in an straight line. In fact, it took President Eisenhower to order federal troops to escort the courageous "Little Rock 9" to forcibly integrate the Arkansas High school following the desegregation order.
The students noted that today, especially in the state of New Jersey, some schools are segregated more than ever. According to a 2013 Civil Rights Project report, "Students of color have only seen their chances of attending an 'intensely segregated' school increase in the past ten years."
Multicultural student Corey Van Huff stated, "Public schools in African American communities lack resources, are overcrowded and lack opportunities afforded at other schools. This leaves students unprepared and unable to reach the American dream."
He added, however, that a bright spot in New Jersey public education is that regional high school districts like RBR which tend to have more diverse student bodies resulting in lower dropout rates and greater preparation for college. Case in point is Lynese Rawlins.
She told the students, "I made my mark here, and learned every lesson I possibly could from this amazing school and every dedicated teacher …I am a proud member of the first African American Sorority founded in 1908, Alpha Kappa Alpha… and I have been able to give back to thousands of students in low-income communities. I have been able to promote and educate young youth at risk about the importance of education and attending colleges."
Lynese encouraged her fellow students to study hard, take challenging AP courses, do well on exams like the SAT and AP exams and visit colleges and research their various programs.
She explained, "Despite your race, your gender, who you decide to love in life, or your religion, our ancestors and even some of our grandparents, have paved the way for our generation and for many generations to come."
The celebration of African American cultural contributions to American history was showcased by the many talented students in its Visual & Performing Arts Academy. The string orchestra, which opened the festivities, performed the Black American National Anthem "Lift Every Voice and Sing". The jazz band performed Duke Ellington's "Take the A Train" and the iconic Gershwin tune "Summertime" from the first African American opera Porgy and Bess. The Concert choir sang "Take Me to the Water" by Rollo Dilworth, a contemporary gospel style piece that incorporates quotations from two African American spirituals. The Chamber Singers sang another medley of spirituals entitled "Yonder Come Day."RBR dance majors danced to their own choreographed pieces set to "Rise Up" about overcoming challenges and "Arrival of the Birds" about a group coming together. Drama students performed Maya Angelou's haunting "And still I Rise, which concluded with "Bringing the gifts that my ancestors gave, I am the dream and the hope of the slave."
In discussing RBR's special diversity, RBR Principal Risa Clay stated, "We have come together for common causes. Remember those moments. Do the right thing for the right reasons. And remember in the words of Martin Luther King Jr., 'Darkness cannot drive out darkness only light can do that. Hate cannot drive out hate; only love can do that.'"