Return to Headlines
Sophomores Encouraged to Take the Most Challenging Courses at RBR
Sophomores Encouraged to Take the Most Challenging Courses at RBR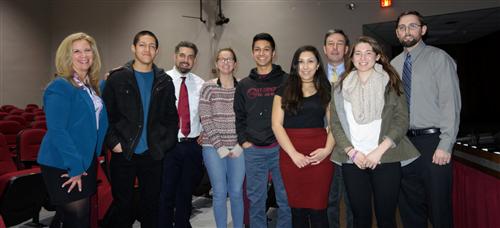 "I will not accept my limits and I will not look back… Whatever it takes I know I will come back to harness my inner strength…and continue to raise the bar and push myself further and harder." These words were used in a sports network video, meant to inspire athletic achievement. In a recent presentation to the Sophomore Class, RBR Guidance Supervisor Jason Sabino opined that these words can just as easily apply to academic achievement, and that RBR provides the means to challenge every student to achieve their highest academic potential with an array of exceptional high caliber course offerings.
Twenty Advanced Placement (AP) courses, an International Baccalaureate (IB) Diploma (with eight courses that may be taken as electives), and 10 dual credit courses all challenge students to employ critical thinking skills necessary for academic ascendancy. They also provide an opportunity for career exploration and carry the option of earning college credit.
While the AP classes were designed by the College Board (the same institutions responsible for the PSAT and SAT exams) the IB program in a renowned international program developed in Geneva Switzerland.
Jason Sabino commented on the later, "The IB encourages students to think broadly beyond boundaries of their community and see themselves as members of a global society."
RBR is one of only four schools in the county and 14 in the state to offer the (IB) program. IB program coordinator Ryan Hilligus told the students, "An international perspective and mindfulness runs throughout the whole program. Some courses run for one year (SL) while others run for two years (HL). While the SL programs may be taken as electives, requirements to obtain the IB diploma include completing six core subjects (HL classes) as well as the IB signature Theory of Knowledge course. Additional requirements include a 4,000 word essay and the completion of continuous activities services (CAS) outside the classroom over two years (sports, extracurricular and community service).
Dual Credit courses are offered by RBR with concurrent enrollment with several colleges including Syracuse University, Georgian Court University, Fairleigh Dickinson University and Brookdale College. Upon completion of the courses, students receive college credit form the sponsoring university which may also be accepted as college credit to other universities.
Seniors who have availed themselves of all these challenging courses were available to offer their experience to the students.
Bobby Villaluz stated, "The AP teachers at RBR tend to prepare us very well for the exam. I felt very prepared and it showed very well in my scores… Also, no matter what career path you choose taking AP courses will help you toward success."
Kristen Wimmer stated that since she is interested in a career in international relations, the IB diploma program was very appropriate for her.
Nick Villalobos added, "I took an AP English and two IB courses this year. I think it is great since we live in the world and not just New Jersey. My regret is that I only started them this year (senior year.) I didn't think I could take them but my teachers really worked with me."
Alex Sosa explained her preference for IB classes stating, "IB was the right choice for me because I am a creative writing major and IB is much more writing and discussion based. The CAS totally immerses you in the world around you.
Ella Brockway discussed the benefit of taking both AP and IB classes, dispelling the myth that students were unable to take both.
She explained, "I spent all my junior year taking AP and just added an IB science this year. I think being able to take both (AP and IB) is such a valuable opportunity as what I learned in AP helped me in the IB class and things I learned in the IB, like taking information from multiple sources, really helped me in my AP classes."
All the senior students agreed that having taken these advanced classes were a great help in meeting with counselors on their college visits this past year. They also have very tangible benefits like having certain class requirements waved and even earning college credit for them. Also they encouraged students not to avoid an AP course because they might think it will hurt their overall GPA as the more difficult courses are weighted heavier in the GPA calculation.
Students looking to enter the IB Diploma program were informed that the application period for the program is Feb 28, 2017.
Jason Sabino added, "When in doubt, always take the opportunity to challenge yourself as you would as a competing athlete."