Return to Headlines
RBR Fosters Special Friendships through Unified Sports Special Olympic Program
RBR Fosters Special Friendships through Unified Sports Special Olympic Program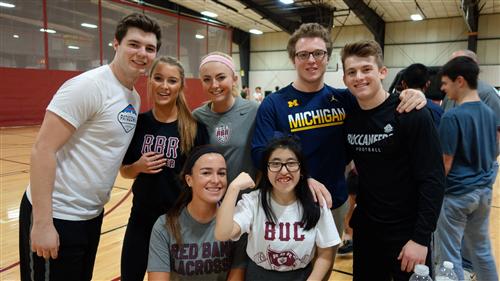 This past year, Red Bank Regional (RBR) Athletic Director Del DalPra was able to secure a $3500 grant from the Special Olympics Organization to become a Special Olympics Unified School. The grant subsidizes an instructional aid and special education transportation for this after-school activity. According to the Unified Olympic website, "Unified Sports is also an integral part of the Special Olympics Unified Strategy for Schools, which was founded in 2008 and funded through the U.S. Department of Education to use Special Olympics as a way to build inclusion and tolerance in schools."
RBR joins over 4300 middle and high schools in the United States which have adopted this program, where able bodied kids play side by side with special education children who are intellectually disabled.
AD Del Pra comments, "We had been doing this already without the Special Olympic designation in track and bowling. This grant allows us to expand to a basketball program, which we just concluded in February, and to add a soccer program in the fall. Additionally, as a Special Olympic School, our kids have the opportunity to compete with other Unified teams in the Shriver Cup which is held in April for Basketball in Princeton."
The winter basketball program included eight special education students from the schools "self-contained" program and 18 regular education students. All were equal participants in the program an all had an equally great time playing a competitive basketball game every Tuesday night over the past two months. The name of the team, BUCS, is an appropriate acronym for Buccaneer Unified Club Sports.
On one afternoon, Diana Santamaria Delgado ran up and down the basketball enthusiastically waving her hands for someone to throw her the ball. Being of a small stature, her peers had shown her how to move under the basket and throw the ball from a deep underhand position. So many times, her throws skimmed the rim just before bouncing off. Undeterred she tried again. Other special education players, however, are regularly making baskets from all sides of the court. Their sheer pleasure of achievement is broadcast by their brilliant smiles.
Diana comments, "I like to be with the boys and girls and I like running."
RBR instructional aide Anne Brennen comments, "The amazing thing was how much better the students have improved in their athletic and social skills.
Del Dal Pra echoes that sentiment and adds, "All of our kids basketball skills have improved tremendously but their social relationships have improved which was the goal of the whole program. That is the great think about sports; it tends to bring everyone together."
In addition to the great time everyone is having on the court and the athletic benefit it provides all the participants, the program has also accomplished what its founders set out to do. The students have become friends. Now, where previously they passed one in the school hallways without any recognition, now they are shouting out hellos and sharing their lunch table.
RBR junior Michael Eulner, the RBR Class president joined the program since he was injured in his football season and was able to help as an assistant coach.
He comments, "I was surprised on how well everyone got along and everyone played together as one team. The special education kids sit right next to us now at our lunch table. They have become more comfortable with us. We have all became friends."
Steven Navitsky, junior and participants, looks forward to the team competing in the Shriver's cup in the spring. He states, "It offers more opportunities for everyone and it brings the whole student body together."